We at the Santa Clara Valley Open Space Authority stand in solidarity with the Asian American community and collectively grieve the lives lost and lives impacted in recent attacks and hate crimes across the country.
As an agency committed to connecting our diverse communities to nature, we will continue to speak out against these senseless acts of violence and hate.
Nature is for ALL. We stand committed to ensuring that our public open spaces are places where EVERYONE feels safe and welcome.
Last summer, we made a long-term commitment to inclusion and equity in every facet of our work. We are reaffirming this promise as we continue to work towards understanding both the visible and invisible barriers and biases that communities of color face, including equitably accessing the public spaces that belong to them. To learn more about the steps we've been taking to combat racism and make nature more equitable, please read the latest update on our work to foster a more inclusive outdoors.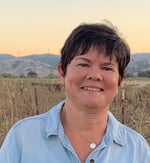 Respectfully,
Andrea Mackenzie
General Manager