In response to the intolerable acts of violence and racial injustices against people of color, and the ongoing COVID-19 global health and climate crises, we at the Open Space Authority made a long-term commitment to inclusion and equity in every facet of our work. To work towards our larger goal, we began an initiative to first look outward and listen to the community, and then inward, to reflect on our current practices in the structure and procedures of the organization, and to identify opportunities to improve upon them.
We have a made it a top priority to step back and listen to the voices in the community that are sharing their experiences and value them as a resource to make meaningful and productive changes. As part of this effort, we asked our constituents on social media for any resources, information, and potential partners that will help us achieve our collective goals and make effective, well-informed decisions. This outreach provided many insights and recommendations for us to make our communications and content more accessible, like providing more general information and resources about enjoying the outdoors to break down barriers for those who may not already be involved in these kinds of activities.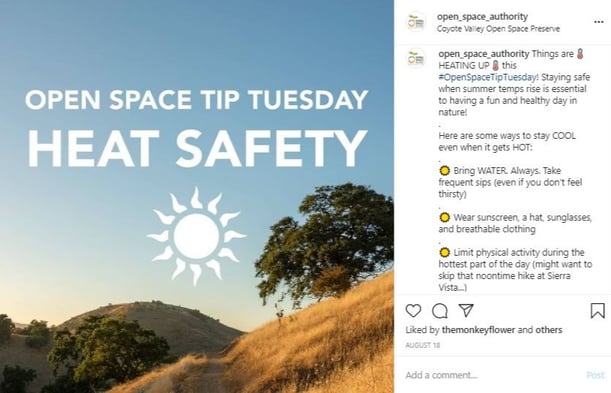 The "Open Space Tip Tuesday" social media campaign is just one way the Open Space Authority is breaking down barriers to nature and making the outdoors more accessible to all.
From our constituents, we also learned of partners we could engage with to amplify their messages and improve our own. We worked with one identified organization, Hispanic Access Foundation, to do cross-promotions for Latino Conservation Week, a nationwide initiative that hosts programs and events to connect Latino communities with conservation. They assisted us in creating our own program and campaign for Latino Conservation Week, which included a bilingual nature walk and a week-long Instagram story series to highlight Latino environmental accounts and provide the community with information, resources, and tips for getting outside.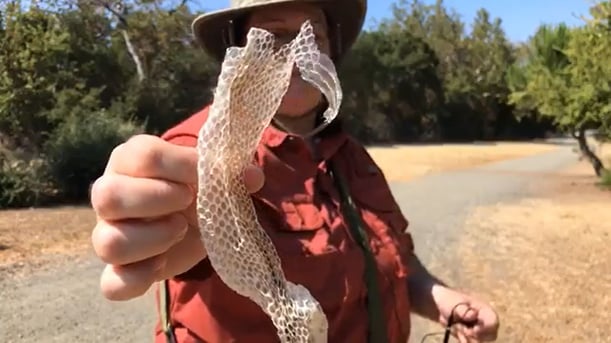 Educational Programs Coordinator Teri shows off a snake skin during our Latino Conservation Week bilingual virtual nature walk, translated by Ada Márquez.
This summer, the Authority held a series of internal meetings to create space for staff to discuss the tragic events, define the behaviors that support or undermine inclusion, share experiences and ideas for improvement moving forward, and plan early steps in the agency-wide initiative to serve the whole community. As a result of these discussions, staff collaborated on creating and adding "Inclusion" as one of the agency's core values, as a dedication to actively uncover and dismantle personal biases, engage in the community, honor the experiences of others, create opportunities for conservation leaders of all backgrounds, and more.
The Authority will be diving deeper into this work in 2021, working towards the creation of a dedicated plan that identifies how diversity, equity, and inclusion will impact and guide the Authority's future work, internally and externally. Further, our Board of Directors felt it imperative to recognize Juneteenth, a day to commemorate the formal end of slavery in the United States, as an agency holiday and approved it during the Board Meeting on October 22nd.
While we are actively working to improve our practices and increase equitable access to nature, we are not there yet. We understand that this is not enough. There is much more to be done, and we want you to hold us accountable. Please reach out to us at info@openspaceauthority.org, and let us know how we can improve. We represent you, the Santa Clara Valley community, and we want to hear your voices. We are working, and we are listening.