Martin Luther King Jr. Day is celebrated the third Monday each January in recognition of Dr. King's incredible life and legacy as a civil rights leader. Many are aware of Dr. King's lifelong pursuit of equal rights, but did you know the impact of his work continues to this day through the environmental justice movement?
Many environmental groups recognize Dr. Martin Luther King Jr. as one of the first advocates for environmental justice, as he paved the way for modern environmental advocacy in social and political discourse across the nation.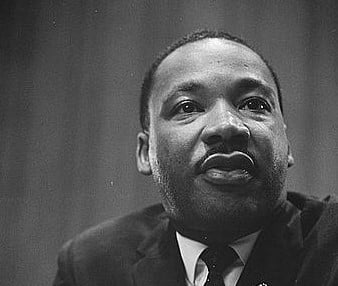 In 1963, after being arrested for leading a demonstration to bring national attention to the brutal, racist treatment experienced by Black people in Birmingham, Alabama, Dr. King wrote a manifesto in which he described, "injustice anywhere, is a threat to justice everywhere."
The civil rights movement advocated for social change, as well as laws to protect equal rights regardless of race. Dr. King's successful public outreach and political advocacy laid the groundwork to advance important environmental legislation including the 1963 Clean Air Act, the Clean Water Act of 1972, and the Endangered Species Act of 1973.
One of Dr. King's final fights for justice was the Memphis Sanitation Worker's Strike of 1968. When consistently poor conditions for Black sanitation workers in Memphis lead to the tragic deaths of Echol Cole and Robert Walker, Dr. King joined a group of sanitation workers on strike demanding safer working conditions, recognition of their union, and fair wages.
The implications of this tragedy are paralleled by their modern forms today, with exploitative labor practices – which disproportionately affect low-income communities and communities of color – and occur in nearly every industry, including food, fashion, technology, and so many more. All of which are connected to the climate, environmental, and racial justice movements.
"All mankind is tied together; all life is interrelated, and we are all caught in an inescapable network of mutuality, tied in a single garment of destiny. Whatever affects one directly, affects all indirectly." - Dr. Martin Luther King Jr.
Over 50 years later, Dr. King's work and his words teach us that the fight against climate change and racial injustice are deeply intertwined.
The devastation Hurricane Katrina wreaked on New Orleans in 2005 is recognized by some experts as the first major environmental justice implication of our warming climate. Black communities experienced the worst destruction from this event which is a pattern consistently observed in studies regarding segregation and the environmental justice impacts.
The disturbing reality is that Black, Indigenous, people of color, often of lower socioeconomic status, are affected the most by environmental health hazards and severe weather events, which will worsen as the climate crisis progresses.
In his final years, Dr. King called upon neighborhoods to organize and try to "get ahead," rather than live in a state of constant reaction to crisis.
"What we are facing today is the fact that through our scientific and technological genius we've made of this world a neighborhood. And now through our moral and ethical commitment we must make of it a brotherhood. We must all learn to live together as brothers - or we will all perish together as fools. This is the great issue facing us today. No individual can live alone; no nation can live alone. We are tied together." - Dr. Martin Luther King Jr.
He encouraged the creation of diverse networks of allies to support one another - which is exactly what needs to happen now. We owe it to future generations to create a world where they will have clean air and water, sustainable sources of food, places to connect to nature, and the resilience they will need to build safe communities.
So, as we work together to envision a greener and more sustainable, cooperative, and equitable future for all – we remember the words and work of Dr. Martin Luther King Jr, and his ethic and legacy of action, awareness, and unity.
Read more about Dr. King below:
Photo credit: Dr. Martin Luther King, Jr. photographed by Marion S. Trikosko, 1964. LC-DIG-ppmsc-01269 Source: Library of Congress