We've all heard of March Madness...now get ready for FLOWER FRENZY! We're back for our SECOND season of the Open Space Authority's Wildflower Bracket!

Join us this month for a fun wildflower-themed bracket to find out which species is this year's favorite – while learning about native California flowers!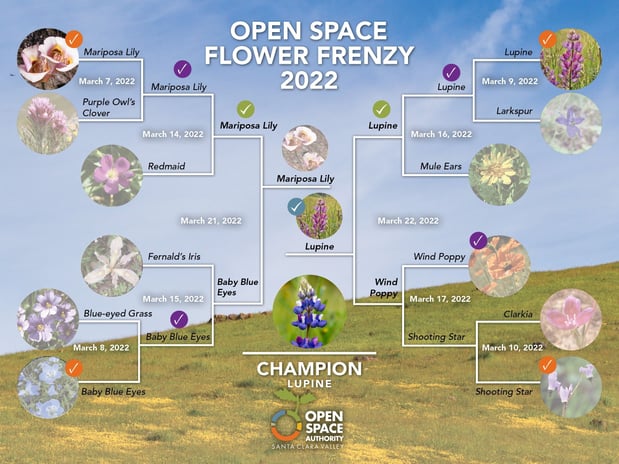 Click on the image to view the full size bracket!
Every day on the Open Space Authority's social media pages (Facebook, Instagram, Twitter), we'll host several face-offs between two wildflowers, along with fun facts about each species. If you followed along last year, you'll recognize a few familiar faces along with some brand-new contenders. Vote for your favorite! See which species advances to the next round!
At the end of month, we'll crown this year's floral favorite, the 2022 WILDFLOWER WINNER.

Here's how to participate in #OpenSpaceFlowerFrenzy: For each set of two flowers, vote for your favorite. The flower with the most votes advances to the next face-off. Only one will be crowned champion of #OpenSpaceFlowerFrenzy!
CHAMPIONSHIP:

MARIPOSA LILY VS LUPINE

Winner: LUPINE!
The votes are in, and the people have spoken! With 52% of the votes, LUPINE takes the crown as this year's champion of #OpenSpaceFlowerFrenzy!

This was our closest race ALL season, with dedicated fan bases rallying behind each of these native flowers. Mariposa lily didn't go down without a fight, claiming an impressive 48% of the votes.

We hope you enjoyed participating in this year's tournament and learned something new about native wildflowers along the way.
---
PREVIOUS ROUNDS
Face-Off #1:

Mariposa Lily vs Purple Owl's Clover

In one corner we have last year's runner-up, the MARIPOSA LILY. This late-season flower made it all the way to the 2021 championship but was bested by the California poppy. The mariposa lily is a bell-shaped flower with colorful patterns on its petals that resemble butterfly markings (which it where it gets "mariposa"). This year mariposa lily is going up against another animal-named wildflower, PURPLE OWL'S CLOVER. Not technically a clover species, but belonging to the paintbrush family, purple owl's clover is named for what appear to be tiny owls peering out from its fuchsia-colored petals.
Winner: MARIPOSA LILY
Face-Off #2:

Blue-eyed grass vs Baby blue eyes

BLUE-EYED GRASS is a member of the iris family with small blueish-purple six-petaled flowers with yellow centers. Last year, blue-eyed grass beat the globe lily, but lost to the California poppy in the semifinals – how will it do against BABY BLUE EYES? True to the name, baby blue eyes are known for their bright blue, five-petaled flowers with white centers. You can find them growing in clusters in meadows, grassy slopes, and canyons.
Winner: BABY BLUE EYES
Face-Off #3:

Lupine vs ZIGZAG Larkspur

LUPINE is a tall wildflower that often grows in large patches, creating seas of purple on our open space preserves. The name "lupine" comes from the Latin word for "wolf." Last year, lupine made a play for the semifinals, but lost to the California poppy. How will it do against another purple species, the zigzag LARKSPUR? Zigzag larkspur (also known as spreading larkspur) is a brilliant purple or dark blue wildflower that grows in woodland and chapparal habitats across Northern California. Its flowers grow on thin, wiry stems in a zig-zagged pattern, and the "spur" on the back of each flower is where this plant gets its name.
Winner: LUPINE
Face-Off #4:

Shooting star VS Clarkia

The SHOOTING STAR is an early-spring flower with dainty, comet-shaped blossoms of white, purple, or magenta. This unique looking flower prefers grassy areas and open woodlands. CLARKIA is a late-season bloomer, earning its other common name, "farewell-to-spring." There are many species of clarkia that grow across California, including the purple clarkia and clarkia amoena. Each cup-shaped flower has four pink petals and has the same general shape as the California poppy.
Winner: SHOOTING STAR
Face-Off #5:

REDMAID VS MARIPOSA LILY

The MARIPOSA LILY handily defeated purple owl's clover last week. Now this late bloomer is going up against REDMAIDS. Redmaids are tiny, low-growing wildflowers native to the Western U.S. Their florescent magenta blossoms have five petals and numerous white-yellow stamens. An early bloomer, this flower can be found from late winter through summer.
Winner: MARIPOSA LILY
Face-Off #6:

Fernald's iris VS BABY BLUE EYES

Last week, BABY BLUE EYES overshadowed blue-eyed grass. Now BABY BLUE EYES is up against... FERNALD'S IRIS. Fernald's iris is one of several species of iris native to California. It has gray-green leaves and pale yellow or creamy white flowers with gray or purple veins. This flower prefers shady woodlands.
Winner: BABY BLUE EYES
Face-Off #7:

MULE EARS VS LUPINE

LUPINE handily secured the crown from larkspur last week in a 3-to-1 race! But we're expecting MULE EARS to put up a bigger fight. Mule ears get their name from the large leaves that resemble the ears of a donkey. Its big yellow flower heads sit atop stems up to 2 feet tall. They belong to the Asteraceae family, along with sunflowers, daisies, tidy tips, dandelions, and most thistles.
Winner: LUPINE
Face-Off #8:

Wind Poppy vs SHOOTING STAR

SHOOTING STAR handily beat the clarkia last week – now this early bloomer is up against the WIND POPPY. The wind poppy has crinkly, bright red-orange flowers with dark centers that sit atop wiry stems. These flowers are "fire followers" - their seeds require heat stimulation to sprout. So can the wind poppy take the heat in this face-off against the shooting star?
Winner: WIND POPPY
Face-Off #9:

mariposa lily vs baby blue eyes

MARIPOSA LILY is a strong contender, having made it all the way to last year's championship only to be bested by California's sweetheart, the golden poppy. But BABY BLUE EYES has proved itself a worthy opponent, easily blowing through two rounds to make it here.
Winner: MARIPOSA LILY
Face-Off #10:

lupine vs wind poppy

LUPINE is a strong crowd favorite, having defeated both larkspur and mule ears in previous rounds. But how will this purple power do against a fiery contender, the WIND POPPY?
Winner: LUPINE
If you love nature-themed bracket challenges like this one, check out last fall's Open Space Bird Bonanza!