You've heard of March Madness... Now get ready for BIRD BONANZA!

Did you know that fall is one of the best times of year for birdwatching? So, join us this month for a birding-themed bracket to discover which species is the true fan favorite – while learning about native California birds!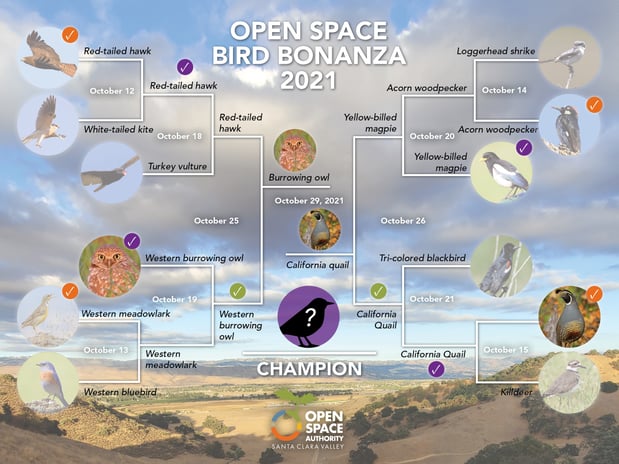 Click on the image to view the full size bracket!
Every week on the Open Space Authority's social media pages (Facebook, Instagram, Twitter), we'll host several face-offs between two birds, along with fun facts about each species. Vote for your favorite, and see which species soars to the next round!

At the end of the series, we'll crown this year's winner, the 2021 FEATHERED FAVORITE!

Here's how to participate in Bird Bonanza: For each set of two birds, vote for your favorite. The bird with the most votes advances to the next face-off. Only one will be crowned champion of #BirdBonanza2021!
CHAMPIONSHIP:

BURROWING OWL VS. CALIFORNIA QUAIL

WINNER: BURROWING OWL
The votes are in, and the people have spoken! The BURROWING OWL takes the crown as this year's champion of #BirdBonanza2021! This charismatic little raptor claimed our hearts in the final round, beating out the official State Bird, the California quail!

The California quail made a valiant effort in the last round, claiming an impressive 43% of the vote and proving that this native bird still has a solid fan base!

We hope you enjoyed participating in this season's Bird Bonanza and learned something new about native birds along the way.

Happy fall birdwatching!
___________________________________________
PREVIOUS ROUNDS
Face-Off #1:

Red-tailed Hawk vs. White-tailed Kite

WINNER: RED-TAILED HAWK
Face-Off #2:

Western Bluebird vs. Western Meadowlark

WINNER: WESTERN MEADOWLARK
Face-Off #3:

Loggerhead Shrike vs. Acorn Woodpecker

WINNER: ACORN WOODPECKER
Face-Off #4:

California Quail vs. Killdeer

WINNER: CALIFORNIA QUAIL
Face-Off #5:

Turkey vulture vs. RED-TAILED HAWK

WINNER: RED-TAILED HAWK
Face-Off #6:

Western burrowing owl vs. WESTERN MEADOWLARK

WINNER: BURROWING OWL
Face-Off #7:

Yellow-billed Magpie vs. ACORN WOODPECKER

WINNER: YELLOW-BILLED MAGPIE
Face-Off #8:

Tricolored Blackbird vs. california quail

WINNER: CALIFORNIA QUAIL
Face-Off #9:

RED-TAILED HAWK VS. BURROWING OWL

WINNER: BURROWING OWL
Face-Off #10:

YELLOW-BILLED MAGPIE VS. CALIFORNIA QUAIL

WINNER: CALIFORNIA QUAIL
P.S. If you love nature-themed bracket challenges like this one, check out last spring's Open Space Flower Frenzy!