Outdoor activities provide opportunities to spend time with loved ones, appreciate nature, and get some healthy exercise. If you're new to hiking, this guide from the Santa Clara Valley Open Space Authority can help get you started (ESPAÑOL | TIẾNG VIỆT).
Here are some quick tips to ensure your safety on the trails and make for a great day: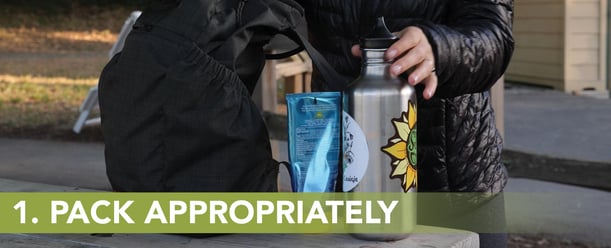 1. Pack appropriately
Some important items to bring with you are water, food, and sun protection. Dehydration can happen year-round so be sure to take plenty of water breaks. No matter the length of your hike, it's always a good idea to bring some food with you, even something small, like a granola bar or nuts to keep your energy up.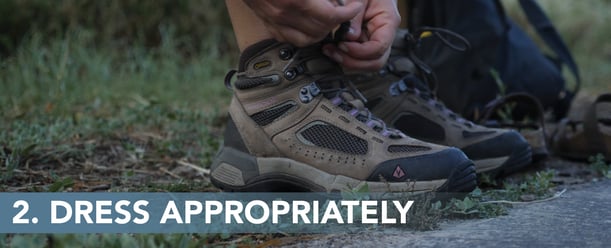 2. Dress appropriately
Long pants are great for hiking, as they can protect you from ticks, mosquito bites, poison oak, etc. Staying on designated paths and trails will also help you avoid these. Wear comfortable and sturdy close-toed shoes. Unless there is a lot of rain and slippery conditions, you probably won't need hiking shoes to enjoy the trails managed by the Open Space Authority. Comfortable, athletic shoes should work fine for most people. Hats are also recommended, especially when hiking locally in sunny California. But it doesn't hurt to bring a rain jacket or poncho during the cold months in case the weather changes after you leave the house.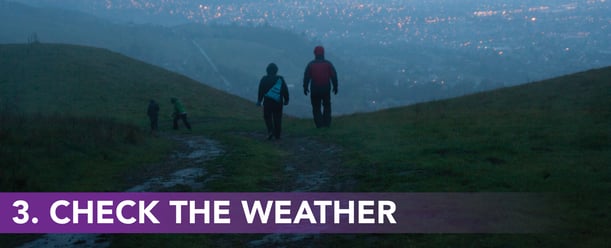 3. Check the weather
Check the weather forecast before you go to help inform you of what to wear and pack. If it's warm, consider wearing light layers that can be removed (you can also check out the Authority's guide to hiking during warmer months). If it's cold, wear layers that you can remove in case you warm up as you go. Regardless of the temperature, sun protection is always recommended.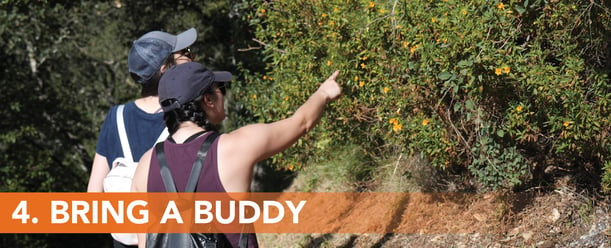 4. Bring a buddy
Having someone with you on the trail can increase your safety and make the experience more comfortable for you – and more enjoyable! Bonus points if your buddy has previous hiking experience, but that's not essential – just make sure both of you are prepared for the trip.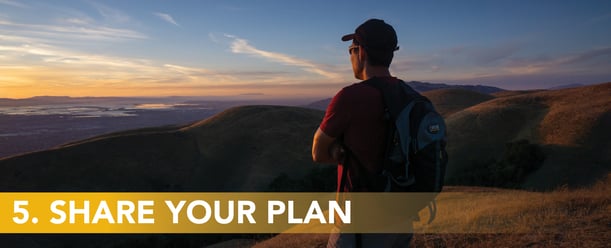 5. Share your plan
If you do go hiking alone, tell someone your plan for the day, including when you're leaving and when you plan to return. Don't be surprised if cell service is spotty on some trails.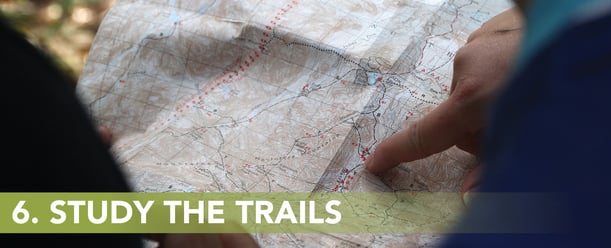 6. Study the trails
Study the trail and route before you leave so you know where you're going. It also helps to have a map of the trail downloaded on your phone or take a picture of the trail map located at the preserve kiosk. All Open Space Authority managed preserve trail maps are available for download online here.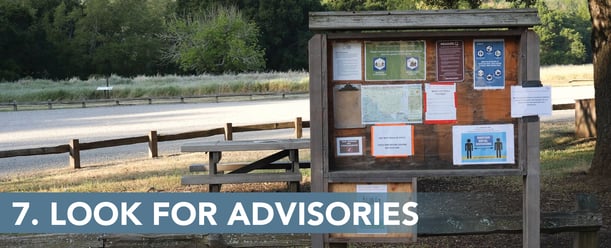 7. Look for advisories
If visiting an Open Space Authority trail, visit the Conditions and Guidelines page to make sure the trail is open and to be aware of any alerts. If visiting other trails, check the managing agencies' websites before you head out.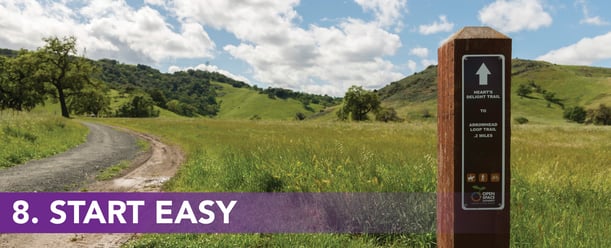 8. Start easy
Look for places to hike based on your activity and difficulty level to find the best trail for you. The Authority often hosts docent-led hikes that provide a guided experience in nature. Check out the Authority's events page to find opportunities you might be interested in.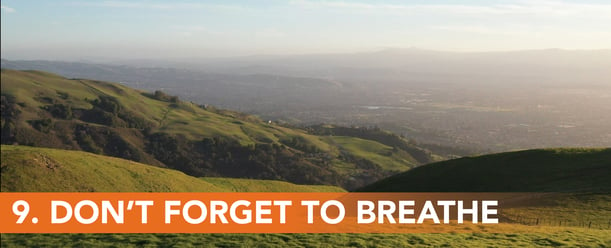 9. Don't forget to breathe
Spending time in nature is even more valuable when you allow yourself to take a moment to be fully present and appreciate it. Thank yourself for having the courage to try something new and reap the physical and mental health benefits nature provides.
Further, no matter where you go, be sure to read the rules at the trailhead for guidelines on the trail. For more safety tips, review our safety guide to hitting the trail. And finally, just take the leap! Getting out there is the first step and once you do, you'll be so happy you did. See you on the trail!