Last week, at a national meeting of conservationists in Denver, Colorado, the Santa Clara Valley Open Space Authority was recognized for doing something no other public agency has before – becoming the first public agency in the nation to receive land trust accreditation.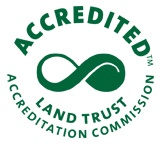 Accreditation is awarded by the Land Trust Accreditation Commission, an independent program of the Land Trust Alliance, a national land conservation organization working to "save the places people need and love" by strengthening land conservation efforts nationwide.
In preparation for accreditation, the Authority ensured its conservation practices and processes met or exceeded best Standards and Practices set forth by the Land Trust Alliance, which includes thorough evaluation of conservation values for each property acquisition and regular monitoring of protected lands to make certain that those values are conserved forever.
As a public agency, the Open Space Authority holds itself to a high standard and this accreditation adds another level of commitment to excellence and professionalism. "Accreditation is a mark of distinction that assures our work meets the best practices and standards for professional land conservation," said Matt Freeman, the Authority's Assistant General Manager. "Our staff takes pride in working collaboratively with landowners to protect our region's vital open spaces, and accreditation further signals to our landowner partners how seriously we take this work."