With Thanksgiving right around the corner, now is as good a time as any to take a minute to reflect on everything we have to be grateful for, whether it's nature or family, food or shelter, or simply the air we breathe.
To celebrate the season of gratitude, we asked our staff to share a bit about what they're grateful for and what makes them excited to work for an agency that works hard to create equity, protect wildlife and natural resources, and connect people to nature wherever they are.
"I'm grateful for the small role that I get to play in the preservation and conservation of our open spaces," said Caroline Hernandez, the Authority's Deputy Clerk of the Board, while enjoying the sun on a hike.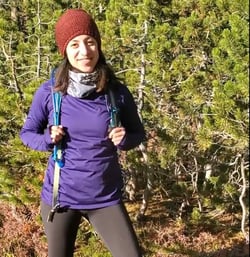 Caroline has worked at the Authority for almost a year and a half and helps manage Board and Committee business. Her favorite thing about working at the Authority is the opportunity to merge her passion for the outdoors and conservation with her career in governance. "I feel lucky to be so strongly entrenched in the mission of the Authority."
Galli Basson, our Resource Management Specialist, is appreciative of her time at the Authority, too. "I'm grateful that I get to restore rivers and creeks, like the one behind me," she reflected while on the Authority's Pajaro River Agricultural Preserve.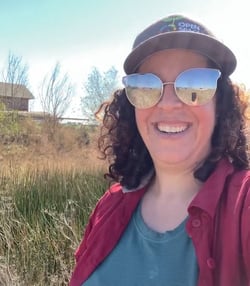 Her experience with planning and conservation brought her to the Authority six years ago, and loves the restoration work she does now. "Partnering with colleagues in other agencies, planning for and seeing uplift and change on the landscape for wildlife, and when possible incorporating activities with kids," she reflects. "I really enjoy restoration projects – all aspects."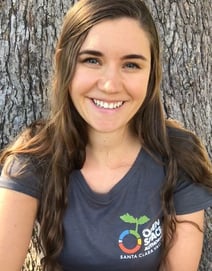 Annamarie Pilon, the Community Engagement Coordinator, relishes the opportunities the Authority offers her. She has been at the Authority for almost two and a half years, and loves using her skills and passions to make a genuine and tangible positive difference in the local community. And beyond that, she cherishes her opportunity to feed her curiosity and love of the natural world and share what she discovers with others.
"I'm really thankful that every single day I get to share the beauty of open space with all of you in the community and that I get to remind everyone that these places are yours to visit and to enjoy."
All of us at the Open Space Authority are honored to protect the open spaces that make the Santa Clara Valley so special, and so important, and we are grateful to you, the residents of Santa Clara Valley, that this is something we get to continue working on.
As part of this work, we are hosting an Opt Outside event, inspired by REI's #OptOutside movement created to encourage people to enjoy nature the Friday after Thanksgiving instead of going shopping. On Friday, November 27th, the Authority is hosting a self-guided family day in nature for you to appreciate time with your loved ones or enjoy a much-needed outdoor experience at Rancho Cañada del Oro Open Space Preserve.
Come to the preserve and hike your pie off, or enjoy games, activities, and challenges that you and your family can participate in together. From self-guided birding to a variety of photography challenges, there will be no shortage of opportunities for family fun.
Learn more about this special event and register here!
Top photo: Apurva Hp