Meet Supervising Open Space Technicians, Megan Robinson and Andres Campusano! Learn how these two work to protect the natural and working landscapes of Santa Clara Valley, as well as their efforts to make everyone feel welcome at Open Space Authority preserves.
Can you describe your role at the Authority?
Megan:
"I take care of the land," Megan puts it. Megan is responsible for overseeing the field team staff who work in South County (Coyote Valley and Rancho Cañada del Oro Open Space Preserves) to help fulfill the needs of the open spaces and the visitors. "We work to ensure public safety and that everyone feels welcome, all the while getting to enjoy a well-maintained preserve system and trails.

Andres:
Andres, who oversees the field team at Sierra Vista Open Space Preserve expresses a similar sentiment. "My role is in support of the team," he puts it. "I make sure they're equipped with anything and everything they need to help maintain the preserve and keep things running smoothly."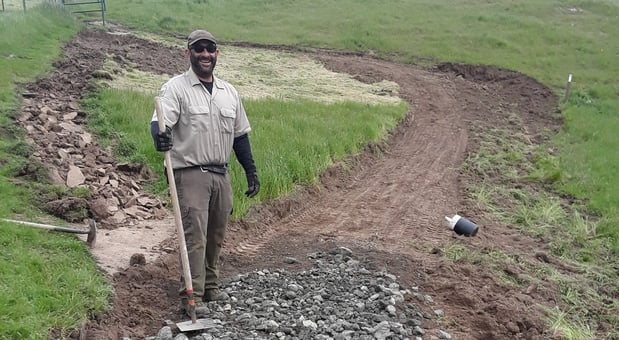 Andres doing trail work at Sierra Vista Open Space Preserve
Where are you from originally?
Andres:
Andres was born in Mexico City while his father was studying art, though he's a Californian through and through. "I grew up between San Francisco and Palo Alto – spent lots of my weekends in San Francisco and went to school down the peninsula in Palo Alto."

Megan:
Like Andres, Megan is a lifelong Bay Area local. "I was born and raised in the South Bay, specifically in the San José and Willow Glen area, and now live nearby in Gilroy."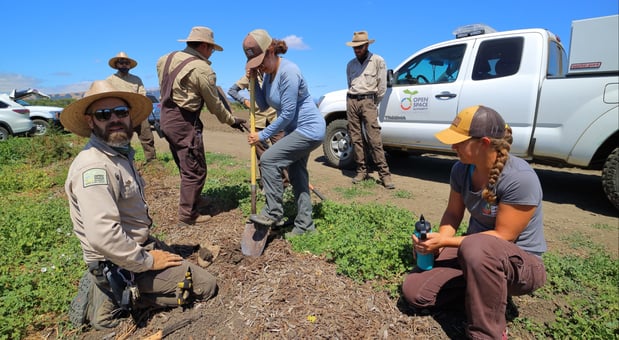 Megan (right) doing restoration work with other staff at Pajaro River Agricultural Preserve, 2021
What did your career path look like and what made you interested in working in your field?
Megan:
Megan's connection to nature grew from riding horses as a young girl. Riding through oak woodlands and redwoods along the hills above Oakland, she reflects that she explored California through trails where she could ride her horse.
"When I was eight years old, I did my first 50-mile endurance race on horseback that took me through a vast network of trails," Megan reflects. "I realized that on a horse I could go farther than my feet could ever take me." But as she got older, she struggled to find trails long enough to condition for races, which resulted in having to trailer her horse many miles away. "I learned that I wanted to be somewhere where trail connectivity was important."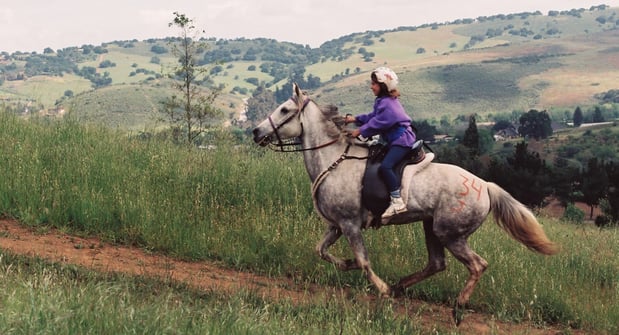 Megan riding her horse, Bonita, through Alamden Quicksilver County Park as a child
In her professional career, Megan was working as a teacher's aide at a local private school when a wildland firefighting class at West Valley College sparked her interest. "I always pictured myself doing something outside, something physical, and ultimately, something that helped in a way." While still working full time she started taking classes in their larger park management program. And in 2005, she saw an internship opportunity pop up at a local open space organization. It was just gaining momentum in conservation and was known at the time as the Santa Clara County Open Space Authority -- what we know today as the Santa Clara Valley Open Space Authority.

"They had just opened Rancho Cañada del Oro and they needed people to run it. It was perfect," Megan notes.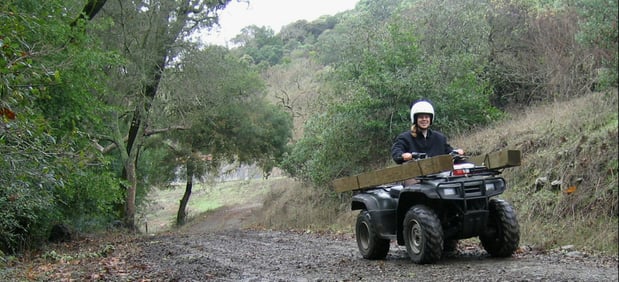 Megan working at Rancho Cañada del Oro Open Space Preserve during her first year (2005)
Andres:
Similarly, Andres always loved being in nature and spending time outdoors. "My main goal was working outdoors – it's what captured me from the very beginning." Through his myriad of roles, working in parks was what stood out to him the most.

"I really was just trying to find something I loved and that would give me purpose," he notes. "I wanted to work at a place that I would enjoy going to every day."

Prior to working at the Authority, he worked as a seasonal open space technician at Palo Alto Open Space, as well as a seasonal technician at Midpeninsula Regional Open Space District. In these positions he wore many hats. "I worked as on-call animal control, I conducted baseball field renovations, and eventually got an introduction into parks management, which changed everything for me." Out of the three hats he was wearing, the preserve and trail management stood out the most. "So, I shifted gears and decided to focus on turning that into my career."

Then in 2012, he found a job opening for Open Space Technician I at the Open Space Authority. "It was my dream job," Andres enthuses. "I loved nature and had tons of customer service experience. I loved working with people and being a mentor for them, and this job was a perfect blend of all of those things."

Andres is a true helper at heart. His mantra? "Oh, you need help? I'll do it."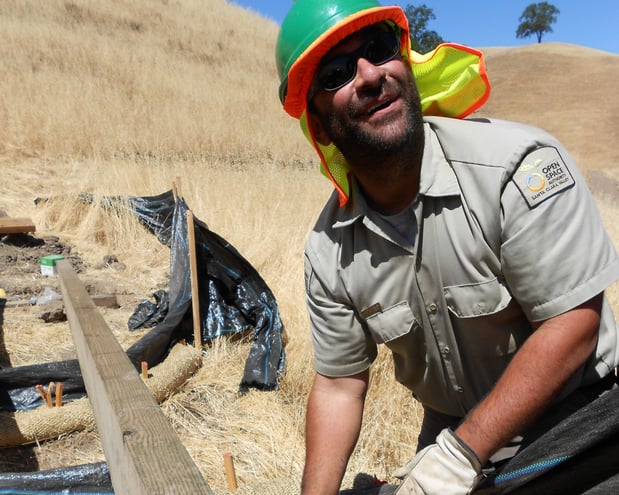 Andres working at Sierra Vista Open Space Preserve (2014)
What is your favorite thing about working at the Authority?
Andres:
"My favorite thing is connecting people to nature. Especially at Sierra Vista – we are constantly seeing new visitors, and it's such a great experience seeing them get excited about it. Watching that...that's the most fulfilling part, I think."

Andres not only wants to get people outside, he also wants to get them past the barriers that might be preventing it. "It can be nerve-wracking going to a new preserve, like it is with any new experience. Being able to get them out of the parking lot and onto the trails – it's really why we're here, doing this."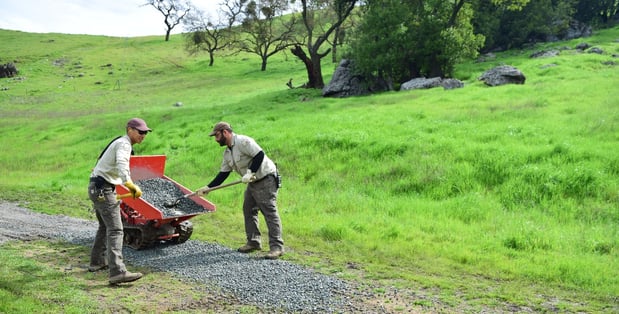 Andres, with Field Technician Cliff Irrebaria (left), doing trail work at Coyote Valley Open Space Preserve (2017)
Megan:
Megan, too, appreciates getting others outside. "I love that the Authority is mission-driven, and that much of that mission is about connecting the public to nature. It's so fulfilling being able to work for people to actually get their feet on the ground and get to enjoy the outdoors."

She also appreciates the goal for conservation, in general. "Even in places where hiking trails don't work, just knowing they're protected from development and degradation makes going to work that much better," she enthuses. "We know that we can look up there and see rolling hills instead of buildings, and we can see that forever."
What is your favorite pastime?
Megan:
For Megan, a mom of three, family always comes first. "Spending time with my kids is always number one," she remarks. "Before starting a family, I loved doing anything physical and outdoors. I loved camping, fishing, racing horses, doing motocross, riding jet skis...you name it. Now family is my priority. We love camping and hiking, and really just being in nature together."

Recently she also started riding horses again. "I got a horse last year and have been training and riding her." She has been traveling up and down the California coast competing in 50- to 60-mile endurance rides and is gearing up for her first 100-mile race in 2023.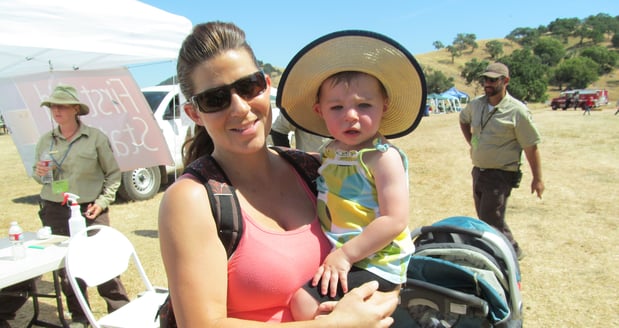 Megan with her daughter (and Andres in background!) at Coyote Valley Family Harvest Feast, 2013

Andres:
Like Megan, Andres puts his family first. "For twenty years, it had been about my kids and their sports," Andres remarks. "My daughters played soccer and softball in college, and we would always go to their games and watch and support."

His eldest daughter graduated from José State University, his younger is beginning their last year at San Diego State University, and his son is working with children with special needs in Palo Alto. Now that they're no longer playing sports, it's changed a bit. He and his wife bought bicycles during the pandemic and have been using them to explore new trails and preserves. "We love riding on new trails throughout the Bay Area, and love to take them around on vacation and ride them with our friends.
What inspires you the most about working in conservation?
Andres:
For Andres, the legacy is what inspires him, and it echoes the legacy of his father. "My father was a muralist in San Francisco and seeing his artwork when visiting makes me feel connected to him," he notes. "He left this mural legacy that he can take his grandkids to, and they can honor and love him – it will make them feel close to him."

Andres doesn't do much in the ways of fine arts, but he's leaving his own legacy for his kids and grandkids – not on buildings in the Mission District, but on the trails he maintains and the land he helps protect. "One day, my kids will take their own kids to Sierra Vista, and can appreciate my legacy in that way."

"The Open Space Authority started small and is relatively new, and now we have a lot on the horizon – a new preserve, new lots and acquisitions...our team will be able to build all of that and it will be a part of us forever."

Megan:
Megan, too, is inspired by legacy – in the longevity of the Authority's conservation work. "What we're doing – it's, for the most part, in perpetuity, and I think there's something so important about that."

"When we open a new preserve, or protect a new piece of land, or restore a new watershed --we are making history," she puts it. "We can say this preserve opened on this date, and it's something that is there forever. Our great, great, great-grandchildren will hopefully get to enjoy it someday."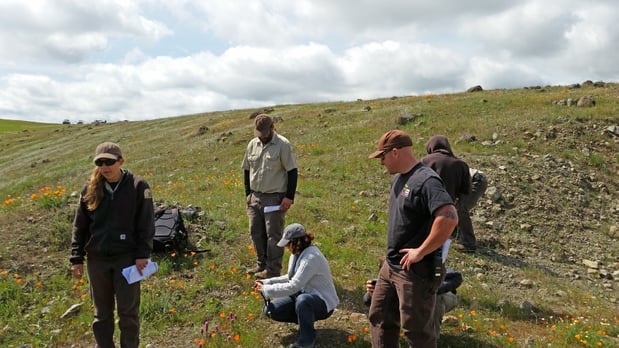 Megan (left) and Andres (center) at Coyote Ridge with other staff (2015)