In California, earthquakes can happen at any time. In Santa Clara County, all residents live within a 10-mile radius of the San Andreas, Calaveras, and Hayward fault lines. This means being earthquake ready is essential - whether you're at home, at work, or out on a hike.
Here are some things to keep in mind when hiking or enjoying the outdoors in earthquake-prone areas:
1. Come prepared
Keep disaster supplies in your vehicle, and any medical needs on you. Pollen levels may rise significantly after an earthquake due to trees getting dislodged, so if you have asthma, make sure your medicines are well within reach. If you're not sure what to include in your disaster kit, learn more about earthquake preparedness at www.PrepareSCC.org/Earthquake

2. Orient yourself
Knowing where you are and where you're going can help you make good decisions and avoid hazards on the trail and on the road when on your way or leaving your outdoor destination.
3. Be aware of your surroundings
If you can, get away from any rocky formations, or cliffs during an earthquake. Always keep an eye out for potential hazards, such as boulders, which could fall and injure you.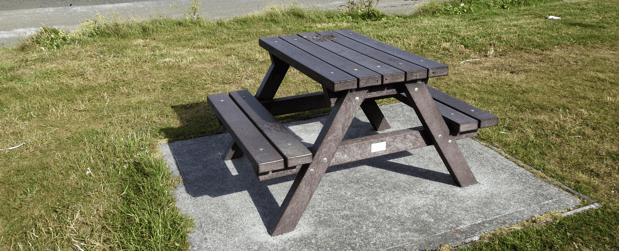 4. If you can, drop, cover, and hold on underneath a picnic table
If you can't, move away from trees where dead branches can fall and look for open spaces or places with lower altitudes to drop and cover your neck with your arm and hand. Once you are in an open space, stay on your knees to avoid falling, and remain there until the earth stops shaking. For people who use wheelchairs, walkers, or who are unable to drop to the ground and get up again without assistance, check out www.EarthquakeCountry.org/accessibility
5. Avoid traveling up steep inclines after an earthquake
Landslides tend to move towards the center of an incline as dirt and debris move downhill.
6. Remain calm
If you do get caught under debris, staying calm may help save your life. Avoid erratic movements that may cause you to kick up or inhale dust, and if possible, cover your mouth to avoid breathing in unwanted debris. Avoid screaming and shouting to reduce exertion, and instead use an emergency whistle to alert others to your location.
___________________________________________
If you're a Santa Clara resident, you can also prepare by signing up for AlertSCC, the County of Santa Clara's official emergency alert and warning system. When an earthquake strikes, you will receive an alert on your home phone, cell phone, and email. For more information, visit www.AlertSCC.org.

And if you're not a Santa Clara County resident, consider signing up for Earthquake Warning California, the country's first publicly available, statewide warning system.