Fifteen minutes from downtown San José is a place called Máyyan 'Ooyákma – Coyote Ridge. This unique natural landscape was protected by the Open Space Authority and partners in 2015. Nestled in the foothills of the Diablo Range, the preserve features rolling serpentine hillsides and breathtaking views of Coyote Valley. As the preserve reaches the final stages of the Public Access Project, the Open Space Authority is preparing to welcome visitors this fall. But before visitors can come out and hit the trails – the trails need to get built!
Trails serve the critical function of keeping visitors at a respectful distance from sensitive wildlife species found throughout the preserve. But they also give people the opportunity to access and experience incredible places first-hand. Trail building is hard work, but Open Space Authority Field Staff and volunteers are taking on this laborious (and rewarding) task with nothing but smiles.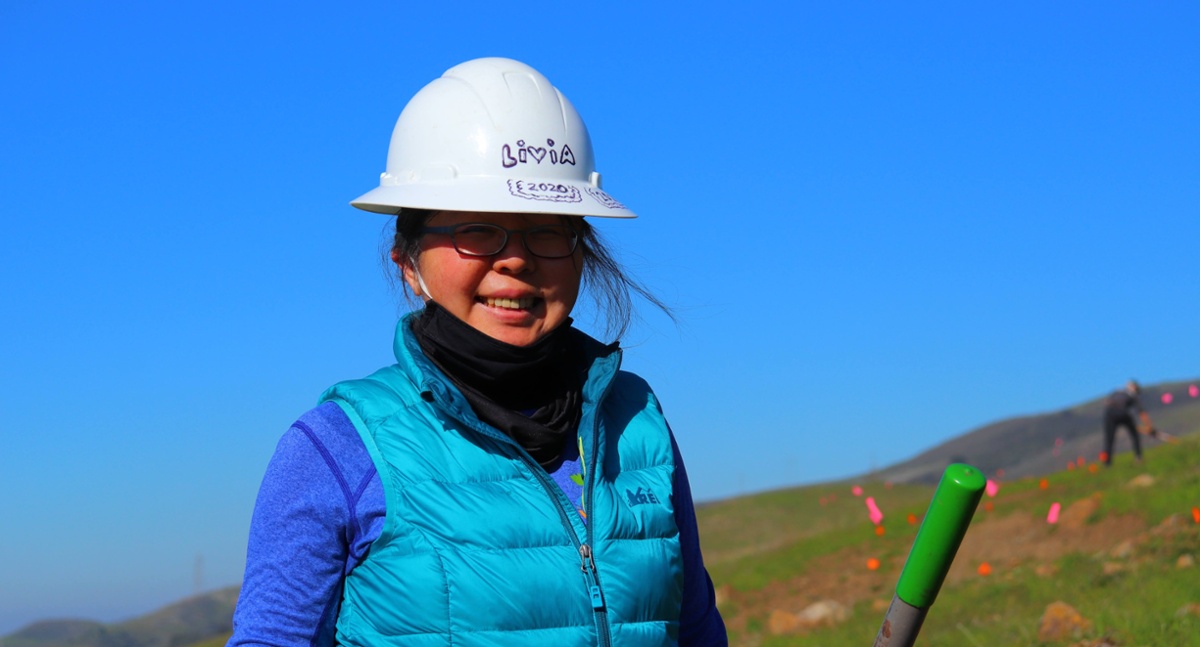 January 2023 kicked off the Open Space Authority's 30th Anniversary and marked the agency's first-ever volunteer-supported trail building effort. "This was something we'd never offered before," Gavin Comstock, Volunteer Program Administrator notes. "The Agency's Field Staff have built all Open Space Authority trails in the past, and they do a fantastic job, so we really wanted to get our volunteers out there for the unique opportunity." With help from the California Conservation Corps, corporate partners, and individual volunteers, trail construction is well underway.
Like any large-scale project, building trails is a time- and labor-intensive process involving considerable planning and of course the physical effort of moving dirt that has been compacted in place for years. During meetings in 2022, Open Space Authority field staff identified the new "Bay Checkerspot Butterfly Trail" as a great project for volunteers to support. The trail is named in honor of the federally listed species that makes this unique place home.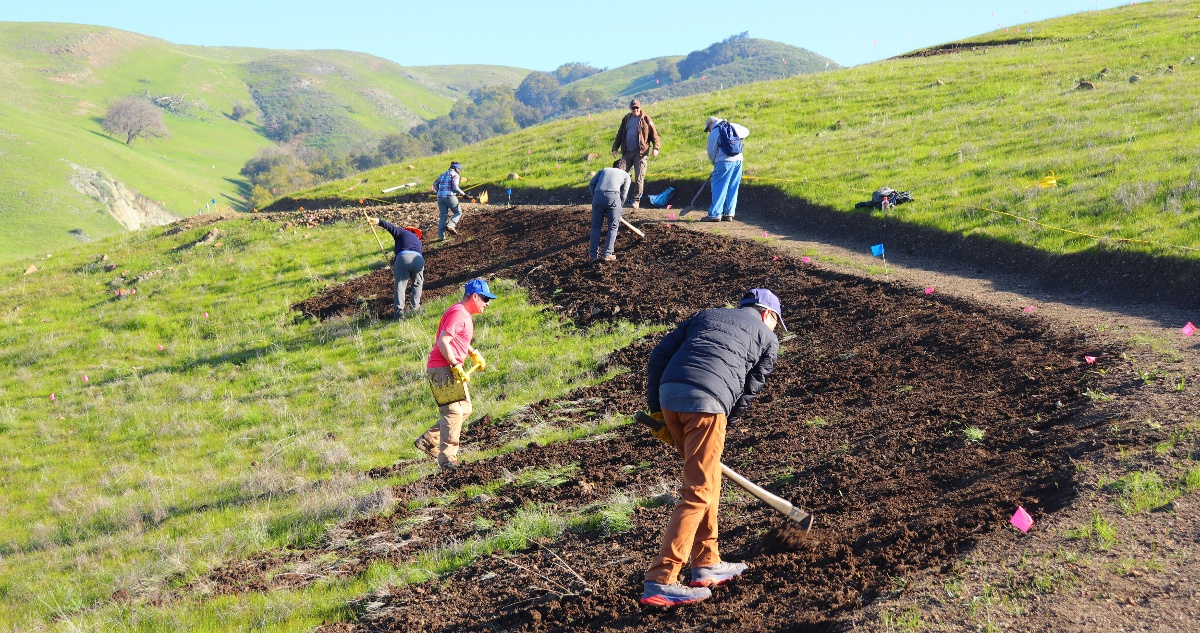 Despite the demanding nature of this work, nearly 20 volunteers and field staff showed up for the first trail build on January 28, eager to pick up where staff and the California Conservation Corps left off. After hiking in a half mile to their location, volunteers worked for six hours to finish the next segment of trail - roughly the length of a football field. The day was a shining success, (literally, dripping with sweat) as volunteers used hand tools and shovels to cut the new path. "As the first official volunteer event of 2023, it was a fantastic way to start the year," says Kat Hill, Volunteer Program Coordinator. "We're excited to offer more opportunities like this as the agency prepares the preserve for the public."
In less sensitive areas, excavators can move large quantities of dirt for trail construction. But this trail is considered more delicate and critical habitat, hosting rare and native species, like dudleya, and dwarf plantains, the host plant for the endangered Bay checkerspot butterfly. The footprint for this work needed to be much smaller, hence why it was done by hand. Because digging displaces large amounts of dirt, much of the workday required a technique called "refinement." This involves going back over previously cut parts of trail to fill in and disperse dirt to create a clear and smooth path to travel on. Less than a month later, corporate volunteers from Advantest came out to continue work on the Bay Checkerspot trail; the views from the trail did not disappoint. "Many of the volunteers had never been to Coyote Ridge," added Hill. "So, getting to spend the workday in this unique and beautiful landscape made it that much more special."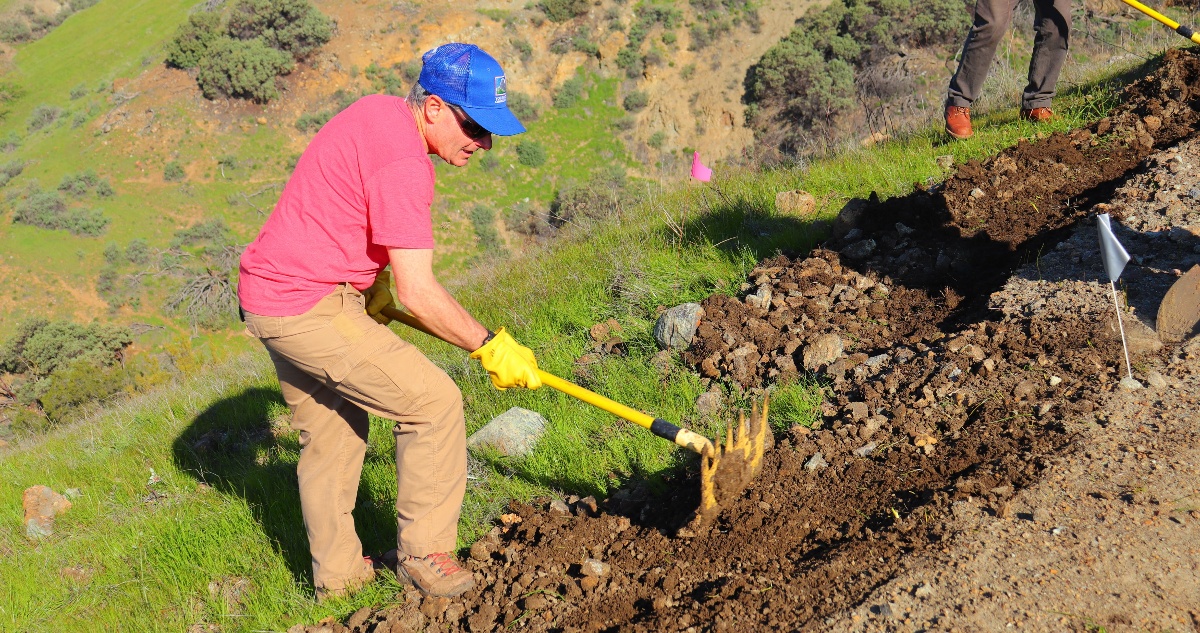 Once completed, Máyyan 'Ooyákma - Coyote Ridge will feature over five miles of public trails, including over three miles of trail to be designated and added to the Bay Area Ridge Trail system. Once open, most of the trail system will traverse existing ranch roads to minimize disturbance to the sensitive landscape, however, approximately 1.5 miles of new trail are under construction to replace a steep, unsustainable section of road. The full Bay Checkerspot Trail is roughly 2.5 miles total- made up of numerous switchbacks, or sharp turns. This will make the considerable elevation gain, approximately 500 feet, easier for visitors to make their way up and down the trail. Along the trail, visitors can enjoy access to one of the few covered oak woodland experiences at the preserve.
"Máyyan 'Ooyákma Coyote Ridge will offer the public a unique opportunity to learn about rare and endangered wildlife species while experiencing the serpentine habitat they depend on, firsthand," says Jennifer Hooper, Associate Open Space Planner at the Authority.
The Open Space Authority has more trail building opportunities at the preserve coming up in March. Learn more and get involved with the volunteer program by clicking here.
Want to stay in the loop on Early Access opportunities to hit the trails at Máyyan 'Ooyákma Coyote Ridge? Sign up for the Open Space Authority's newsletter here.