Each month we are sharing updates from our 2016-2017 Measure Q Urban Open Space Grant Program grantees. Learn more about the work they are doing in the community here.
Building a Garden Classroom - Joseph George Middle School in San Jose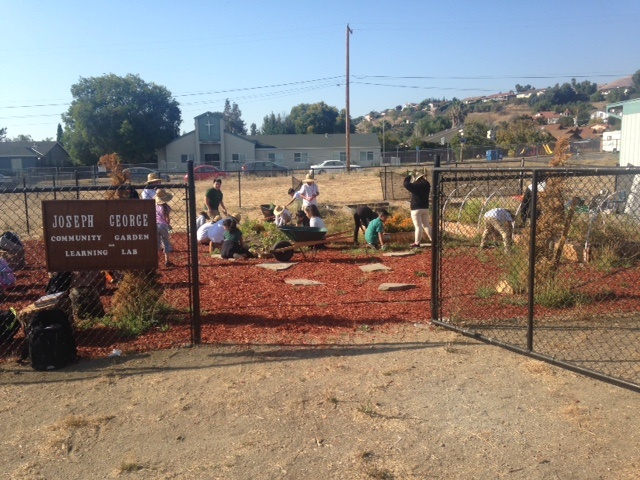 Some schools are trying to promote nutrition – and academic skills - by getting students outside to garden. And the school garden classroom at Joseph George Middle School in San Jose is doing just that.
Tyler Shafsky is the Deputy Campus Director for Citizens Schools, an after-school program that connects students in disadvantaged communities with volunteer 'citizen teachers,', and he came up with the idea for the school garden when he decided to teach a gardening class.
As he started to get the students outdoors, he knew he was onto something. "You can see the kids light up when they get their hands in the dirt," Shafsky said. This experiential learning opportunity was powerful, and he looked to get other school-day teachers – in Math, Science, English - to bring the students outdoors for lessons in the garden.
The program is using Measure Q Urban Open Space Grant Program funding from the Authority to provide seating space and tables for up to 40 students. The students are even talking to their parents about the things they are learning – including nutrition, culture, and the environment. The students are taking ownership of the space and are eager to help out.
Cleaning Up the Creek – Coyote Creek Homeless Stream Stewards Program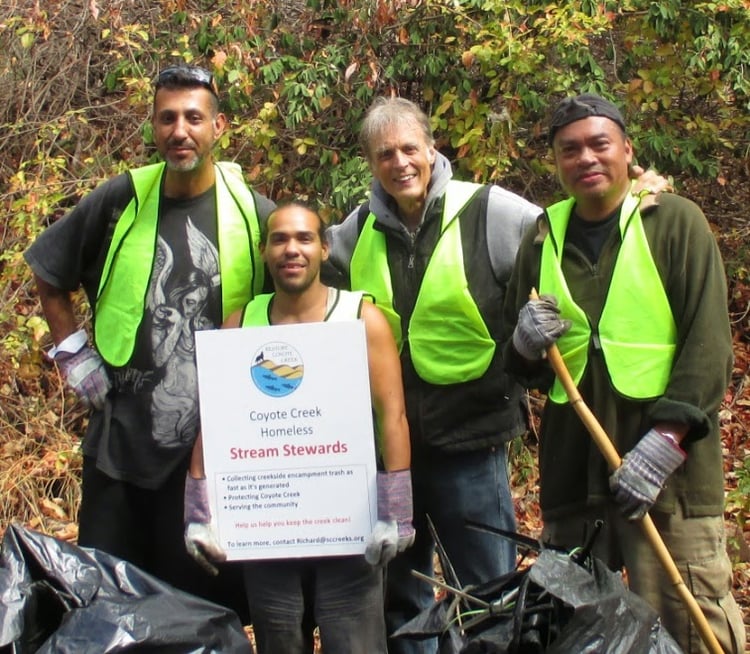 Environmentalists have long been eager to clean up our urban streams to make them safe places for fish, wildlife, and our communities. One local environmental organization, the Santa Clara County Creeks Coalition, was organizing volunteer events, hoping to help clean up the stream, but found it challenging to keep up with the trash that gets left along Coyote Creek.
Three years ago, the organization launched the Coyote Creek Homeless Stream Stewards program, to incentivize local homeless residents to help protect the creeks and clean up trash. As part of the program, a staff coordinator, hired from within the community, would hand out garden size trash bags and organize cleanup events. At every cleanup event, creek community members would get a raffle ticket to win gift cards for Safeway or other businesses.
The program is supported by the Authority's Measure Q Urban Open Space Grant Program. The Stewards program's goal was to pick up 30,000 pounds of trash – they tripled this goal and cleared almost 100,000 pounds (48 tons) of trash from the creek!