Community Connections highlights the many leaders, partners, and neighbors who make a difference in our community. This month we are featuring Luis Gaytan, farmer and owner of G&G Farms in Coyote Valley.
For more than 20 years, Luis Gaytan has been working the land across the Coyote Valley growing hay and alfalfa, starting as a worker and now owner of G&G Farms.
"I know this ground really well, this is Mother Nature. We have to protect it, it's our last chance."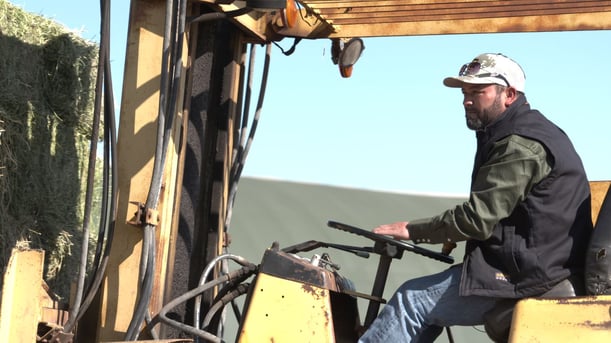 Gaytan took over the long-time farming operation in the Coyote Valley a few years ago after the former owner and partner passed away. One of the parcels the farm currently leases is the protected Fisher's Bend property, which was purchased by Peninsula Open Space Trust (POST) in 2017 and is currently managed by the Open Space Authority. This crucial piece of land, adjacent to Fisher Creek, provides key habitat and safe linkages for wildlife traveling between the Diablo and Santa Cruz mountain ranges. It's one piece of the broader vision the Authority and other local conservation partners share for the future of the Coyote Valley.
In step with these conservation priorities, Gaytan looks for opportunities to incorporate conservation into his operations. On the Fisher's Bend property, he's making plans to start growing an additional field of alfalfa which provides foraging habitat for many species of native birds. He also is working with the Open Space Authority and other partners to put up barn owl nesting boxes and native bee boxes around the area to provide additional habitat.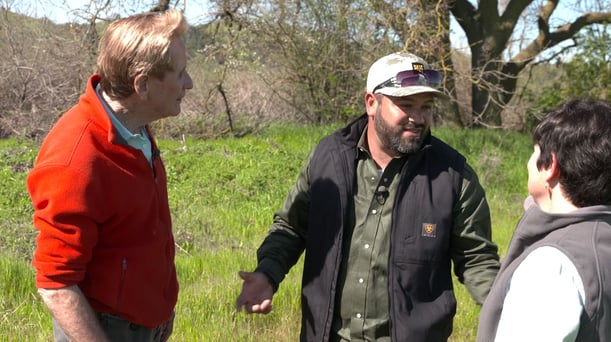 Gaytan talks with Doug McConnell and Open Space Authority General Manager Andrea Mackenzie during a 2019 episode of NBC's Bay Area's "OpenRoad with Doug McConnell."

One of the biggest challenges with farming on urban-adjacent parcels like those here in the Santa Clara Valley is that intensifying development pressures and short, often one-year, lease terms make it hard for farmers to plan for the long term and invest in improvements to the land.
"We can't compete. We're just trying to make it one year at a time, and we are always worried a rich farmer or developer will come in and be able to pay more," said Gaytan.
To this point, in previous years Gaytan did not have access to irrigation on the Fisher's Creek property, so he was only able to grow dry-farmed hay. This past year the Open Space Authority and POST helped to fix a long-abandoned water well on the Fisher's Bend property for mutual benefit. This new water source will enable Gaytan to grow alfalfa on the land, providing a crucial food source for birds and a higher value crop for him, as well as needed irrigation for the Authority and conservation partners' native plant restoration efforts.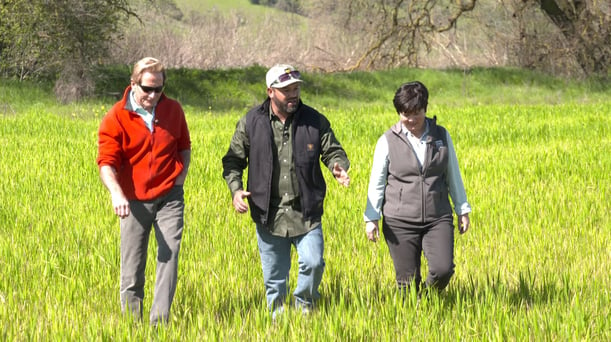 Gaytan shows Doug McConnell and Andrea Mackenzie around the Fisher's Bend property.
Gaytan sees these partnerships and vision as a reason to be excited for the future. "I hope this will always be open and productive land. We can educate people and let them know how we get our food and teach kids how important it is to maintain the open land. At the same time, we can protect the animals that live here."
This love of nature starts at home. "My (15-year-old) daughter, Joselyn, is with me all the time. She loves to walk along the creek and be with the animals - she sees birds like eagles and hawks, and sometimes even a bobcat. I tell her how they are hunting to survive. It's very interesting for her."