"Welcome! Bienvenido! 歡迎! Chào mừng!"
Recognizable by a cheery yellow banner inviting visitors in four languages, the Open Space Authority's community outreach booth is hard to miss, drawing in neighbors young and old to learn about nature at local festivals and events.
While the Open Space Authority is out in the community year-round, the fall brings a flurry of seasonal events. A small and dedicated team of volunteers attends as many of these events as possible to spread the word about open space protection. They hand out literature and trail maps, play educational games with kids, and share their knowledge of the Authority's preserves, initiatives, and events.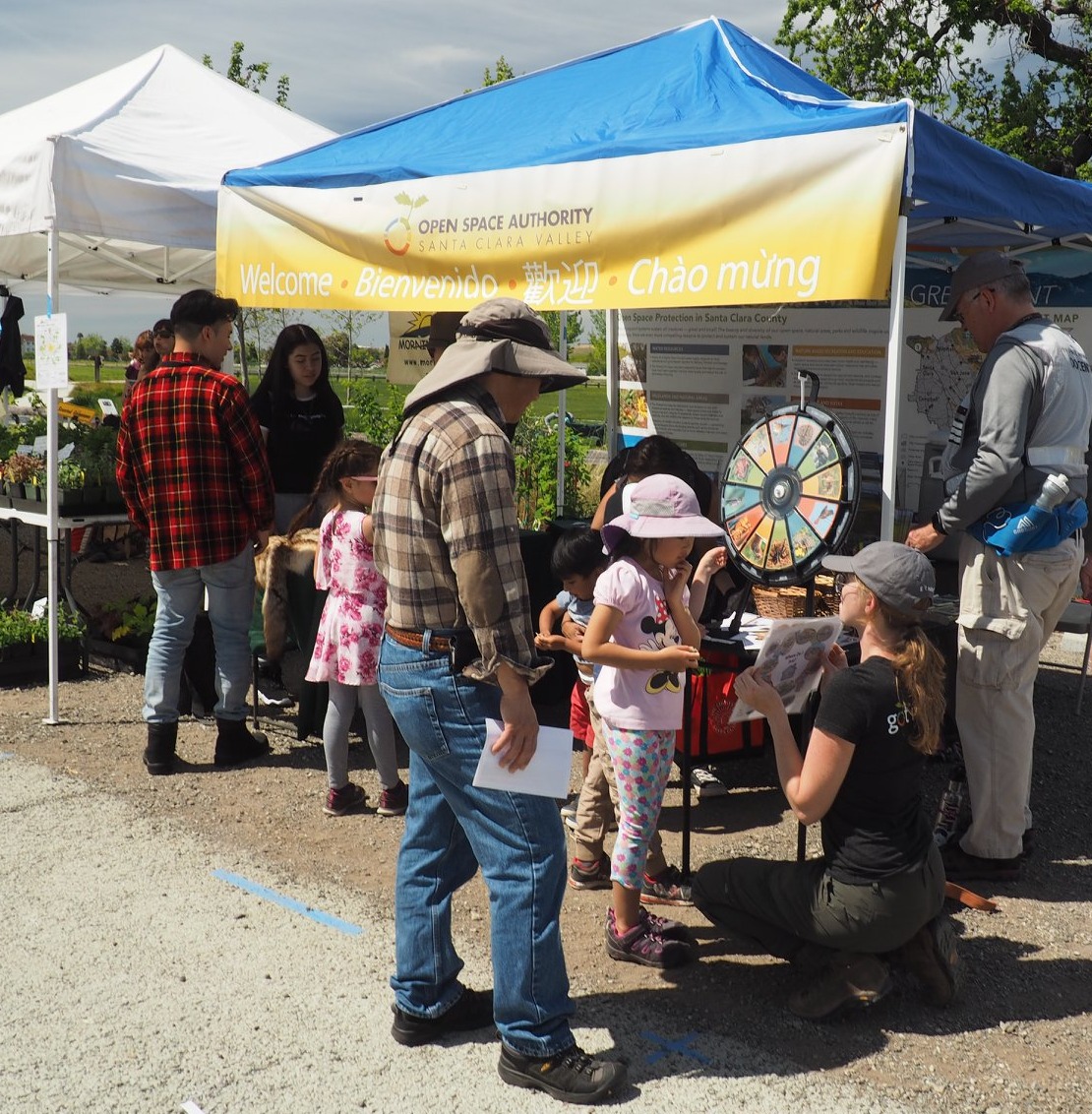 "The outreach booth is a great way to introduce people to the Open Space Authority," said Paul Billig, who has been volunteering for the Authority for the last ten years, representing the Authority at several local events. "Many residents don't realize what a wonderful resource they have available to get out and enjoy the great outdoors."
The efforts of our Outreach Volunteers are making a difference according to another long-time volunteer, Denise Acomb. "Over the last six years, I've noticed fewer booth visitors saying, 'I never knew you existed,' or, 'I didn't know those trails were there.' It seems our community outreach is successfully reaching more people."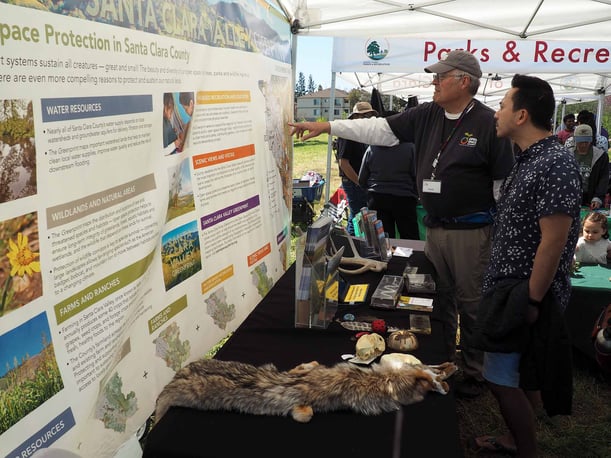 A lot of volunteers find the opportunity rewarding. "Volunteering has connected me with many newcomers to our beautiful bountiful valley. Sharing the Authority's important work makes the day for them and for me," says Garnetta Annable, former Open Space Authority board member and current (for more than 20 years!) volunteer.
But above all, the opportunity is fun. "I like meeting other nature enthusiasts and hearing their stories," says new volunteer, Leisa Johnson.
We will be attending several events in the community this fall, including Santa Clara Art and Wine (September 14-15), Taste of Morgan Hill (September 28-29), Martial Cottle Harvest Festival (October 5), and the Youth Science Institute's 34th Annual Wildlife Festival (October 6). Please stop by and say hello!
Join the team!
We welcome new volunteers to join the Community Outreach team to share information about our open space preserves and lead educational activities at upcoming events, including the fall events listed above!
No experience is needed, just a willingness to share your love of nature with your neighbors. All new volunteers are paired with a more experienced volunteer and/or staff member to be a resource during the event.
Interested? Fill out our volunteer application form here (select "Community Outreach" under Volunteer Roles) and one of our team members will be in touch with more information.