During lockdowns, shelter-in-place, and stay at home orders over the past two years, open spaces became places of refuge, especially for those without backyards or urban greenspaces nearby. But for those who enjoyed the open spaces and trails "before it was cool," increased visitation was a major change. So how do we adjust to the fact that more and more people are going outside and are visiting the hidden open space gems and best kept secret parks and trails?
It may be time to broaden our perspective! The Open Space Authority's preserves saw hundreds of thousands of people flocking to nature to care for their health, find solace, and visit places that felt safe to explore and reconnect with others. Though these places may feel less secluded, increased visitation ultimately means that more people are experiencing the benefits of nature. As the Bay Area's population continues to grow and create denser cities, parks and open spaces are increasingly seen as essential natural infrastructure for public health and creating resilience to the changing climate.
"We are an agency that serves over 1.4 million residents, and we are happy to see a diversity of visitors enjoying open space," says Andrea Mackenzie, General Manager of the Santa Clara Valley Open Space Authority. "In part because it provides us with an excellent opportunity to educate even more people about the important of nature and how to spend time in nature respectfully."
With booming attendance at parks and open spaces across the Bay Area, there is already a need for more trails and places to recreate outside. Through the protection and restoration of more of our local treasured landscapes, agencies like the Santa Clara Valley Open Space Authority are working to provide even more opportunities for residents to get outside and connect to nature.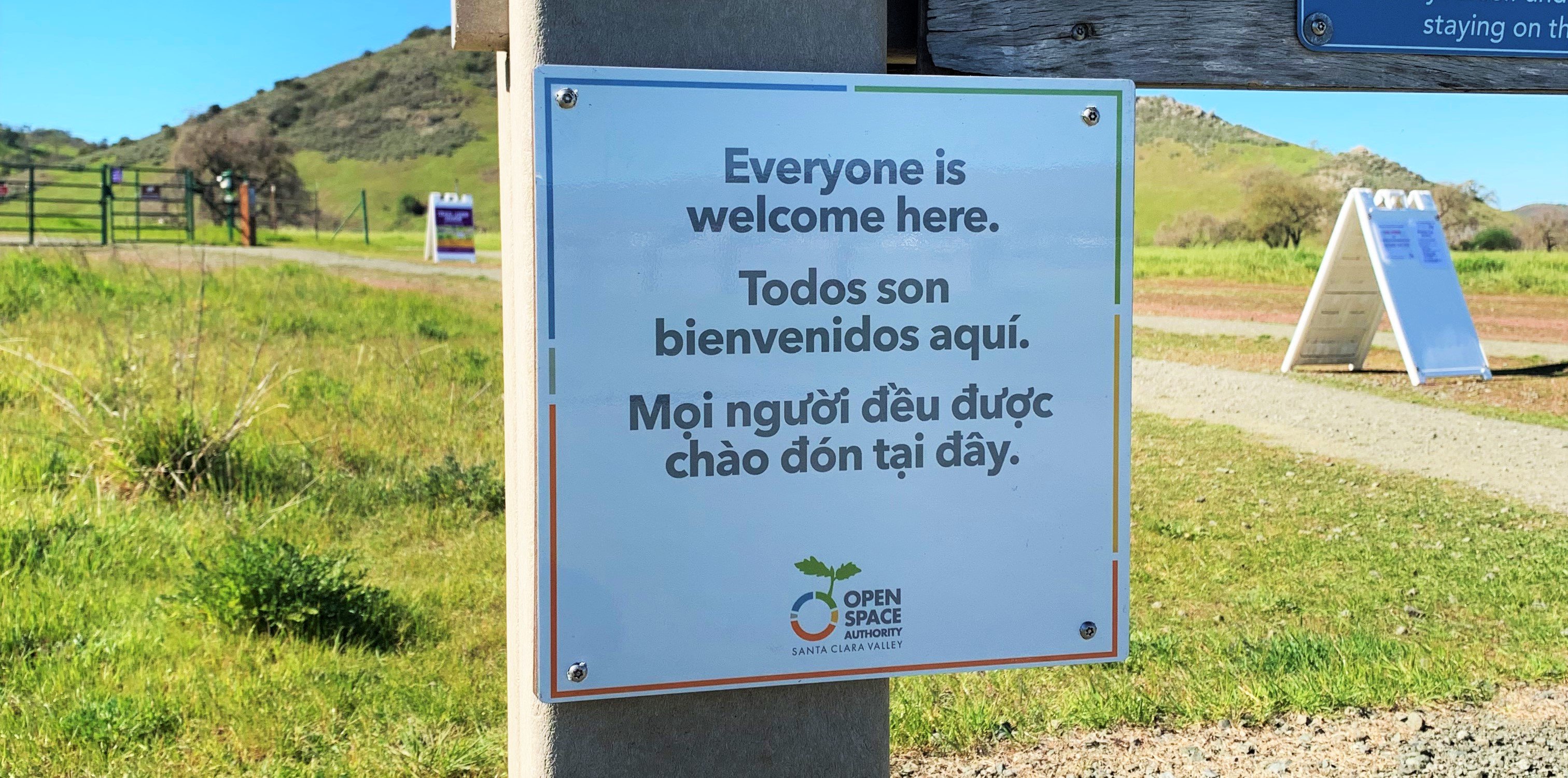 To help balance increased visitation at existing preserves with protection of wildlife and natural resources, public access planning is currently underway to open a new Authority preserve at Coyote Ridge Open Space Preserve. Coyote Ridge is just one of many new public access opportunities on the horizon. The Authority also hosts public access and educational opportunities throughout the year, like the Coyote Ridge Public Access days for wildflower viewing coming up this spring. For details, view the events page.
"Nature is for everyone, and everyone is welcome in the preserves," says Derek Neumann, Field Operations Manager at the Authority.

But of course, not all behaviors are welcome, which is why the Authority is promoting greater education about outdoor safety, responsible recreation, and sharing the trail. "Everyone has a responsibility to respect the land, wildlife, and each other," says Neumann.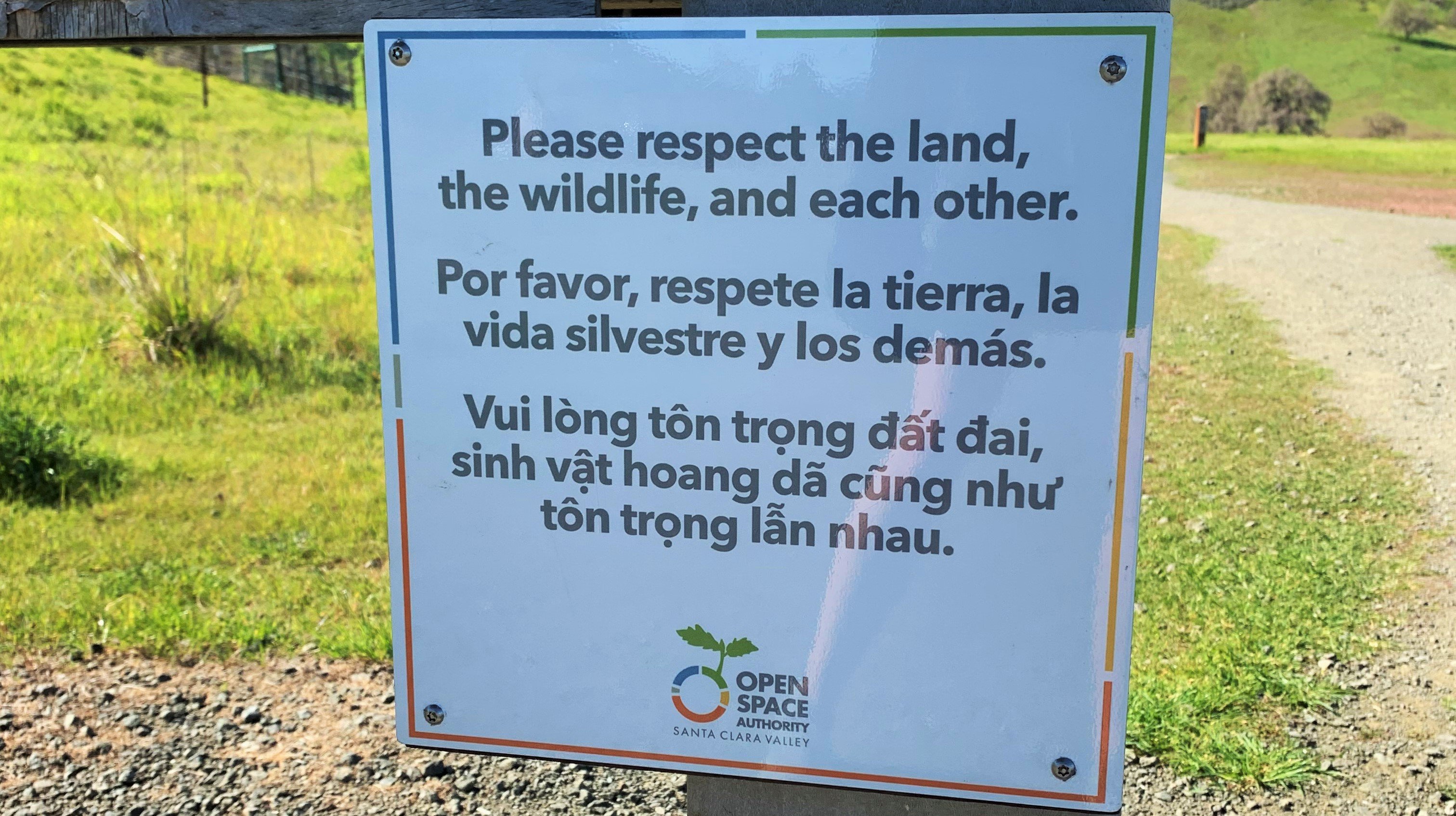 The Authority is spreading this message through field staff, volunteer docents, free public events, signage, and online, so more people can connect to nature and learn about the importance of protecting these natural and working landscapes for future generations.

There are also ways everyone can get involved and help keep our beloved open spaces fun and safe for all. So next time you need to turn your frown upside down due to heavy traffic on the trails, consider the following tips:
1. MODEL GOOD BEHAVIOR
Show others how to follow the rules by following them yourself and being kind to others. Everyone deserves to feel welcome in nature, so do your best to be respectful of everyone out on the preserves. Of course, if there's something you would like to bring to our attention, call (408) 224-7476 or email one of our Supervising Open Space Technicians (contact info below) and let us know what's going on. And of course, if you are experiencing or witnessing an emergency, please call 9-1-1.

2. Be in the moment
If you find yourself losing patience with others – take a time-out. Practice patience and mindfulness by trying to be present. Appreciate the opportunity to be outdoors, surrounded by nature, and that others need that same opportunity, too.

3. Join the cause
It's thanks to caring and dedicated volunteers that the Open Space Authority was able to continue welcoming preserve visitors in 2020 and 2021. For those who are interested in getting involved behind the scenes and experiencing places that are not yet open to the public, volunteering and signing up for events is a great option.
4. Avoid busy times
Try to visit the preserves during "off" hours next time to avoid the crowds.
Rancho Cañada del Oro - Try a weekday, any time. During weekends, the main parking lot fills early, but you can typically find parking in the preserve's overflow lot.
Coyote Valley - Try a weekday, any time. Weekends are busy all day.
Sierra Vista - Try a weekday, any time. Weekends are busy all day

5. Reach out
We love to hear from you! Did you notice anything interesting out on the trail? Is there something you want to learn more about? Reach out at info@openspaceauthority.org for specific questions or subscribe to our eNewsletter and event calendar for the Authority's latest stories and upcoming events.