The concept of "health" is broad, and it is sometimes complex. When considering what being "healthy" means, we often think of physical health: good nutrition, regular doctor's visits and exercise; everything in order. However, mental and spiritual health, while often overlooked, are equally as important. Asian Americans for Community Involvement (AACI) recognizes this, and they are making a big difference in the lives of their community members.
Founded nearly fifty years ago, AACI began to address the unmet needs of Southeast Asian refugees and has since grown to be one of the largest community-based advocacy and service organizations in Santa Clara County. Tied greatly into their mission is the focus on providing underserved and marginalized people in the community with resources to help them achieve whole health; to help them thrive physically, mentally, and spiritually. For communities that have been oppressed, neglected, and targeted throughout American history, the barriers they face from accessing healthcare and resources are not only significant, but are often detrimental. AACI strives to mitigate the inequities deeply rooted in the United States health systems and services by providing community members with the resources they need to help them thrive. They are able to do so in over 40 languages, with bilingual, bicultural providers that understand and have ties with the communities they serve.

Just last month, in collaboration with the City of San José, they hosted an event to vaccinate unhoused people and people with disabilities. And with medical services, wellness services focused on prevention and early intervention, behavioral health services, domestic violence and human trafficking services, as well as youth and leadership opportunities and continued political advocacy, AACI is able to coordinate care among several programs, working tirelessly to serve the needs of its community and shows no sign of slowing down.
As Asian American and Pacific Islander (AAPI) Mental Health Day approaches on May 10th, during the larger AAPI Heritage Month, Nira Singh, Director of Behavioral Health Services at AACI, discussed their holistic approach to client care, and their work throughout the pandemic. "We offer integrated services to people from age zero to older adults with a model of whole health," said Singh on their client-centered services, which often involves spending time in nature.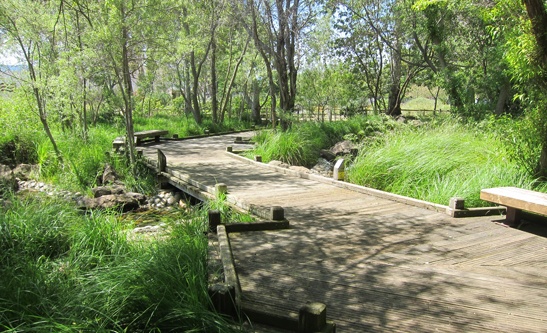 Such a call to action highlights the importance of having green space in cities for urban residents to visit. A variety of research has shown the numerous health benefits of spending time in nature, both physically and mentally, as it reduces stress, improves cognitive function and promotes physical wellbeing. This is why providing equitable access to the outdoors is one of the Authority's top priorities, made all the more important by the COVID crisis, and its uneven impacts on certain populations. Authority-funded parks like Edith Morley Park and Martial Cottle Park are excellent examples of how developed, urban environments can still provide nature that offers similar health benefits without requiring people to travel far from home. And the way AACI prioritizes encouraging their clients to get outside sets them apart from many health care providers, as it considers much more than only medical interventions to keep their clients healthy.
With a long career in community-based health and advocacy work, particularly focused on marginalized and underserved populations, Singh not only helped to get AAPI Mental Health Awareness Day established, but also recognized nationally. Now, approaching her sixth year at AACI, she continues to oversee Behavioral Health services at the organization, and the passion she has for her work is greater than ever. "The Achieving Whole Health model focuses on physical health, mental health, and spiritual health, and being in nature is a key factor," Singh mentioned. "And spirituality doesn't necessarily mean religion – simply having time outside and in nature is healing, regardless of religious belief, and it's frequently included as part of treatment for patients."
AACI's integration of nature into treatments aligns greatly with the Authority's mission to provide access to it. With its open space preserves, reports, urban grant programs, events, and resources like this virtual guided meditation, the Authority uses many approaches to increase access to nature and is proud to be working alongside AACI in service to the community.
Photos courtesy of AACI