Valentine's Day is typically celebrated with candy, chocolate, and cards, but this year consider enjoying time with each other outdoors while sharing your love for the natural environment.
Bonus: you'll also get a good workout -- did you know, February is also American Heart (Health) Month?
Whether you are looking for a romantic stroll or a challenging hike that will get your heart rate up, here are five local trails that we love, both in our open space preserves and in urban open spaces that the Authority has helped to fund.
Llagas Creek Loop Trail - Rancho Cañada del Oro Open Space Preserve
Level: Easy
Distance: 0.5 miles
We love this trail because it's easily accessible to all regardless of age, experience, or ability level, and offers a chance to see abundant wildlife and, in the springtime, wildflowers! This flat and paved trail begins at the parking area and meanders through a meadow with wildlife such as wild turkeys and deer. Look up and you may see circling turkey vultures and red-tailed hawks, Western bluebirds, and acorn woodpeckers. Enjoy a picnic or watch the glistening creek at a wheelchair accessible picnic table. A bit further along, you will view huge oaks and California walnut trees, and seasonal wildflowers.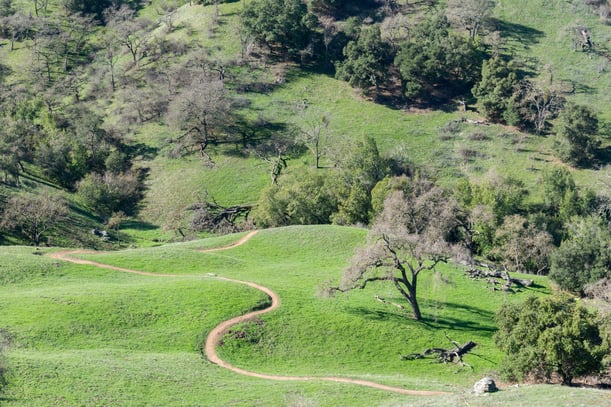 Arrowhead Loop Trail - Coyote Valley Open Space Preserve
Level: Easy, Moderate, or Challenging
Distance: 1.7 miles (first overlook) to 4 miles (full loop)
This trail offers a chance to take in stunning views of Mount Hamilton, Mount Umunhum, and the entire Coyote Valley, while spotting the diverse wildlife that call these hills their home. There are three hikes mapped out so you can choose whatever level of experience you are looking for. The first section is an easy, 0.85-mile one-way hike from the valley floor, ascending 140 feet through blue oak savannah to the first scenic overlook, with sweeping views of Coyote Valley, and then return back to the parking lot (1.7 mile round trip). For a moderate challenge, keep going past that first outlook through the second section, climbing about 300 feet more through a canopy of oak trees, over two sturdy redwood bridges to the second vista point, and then return (total distance 3.3 miles). For a challenging hike, do the full loop (total distance 4 miles) climbing along the ridgeline and back down to the valley floor and the trailhead.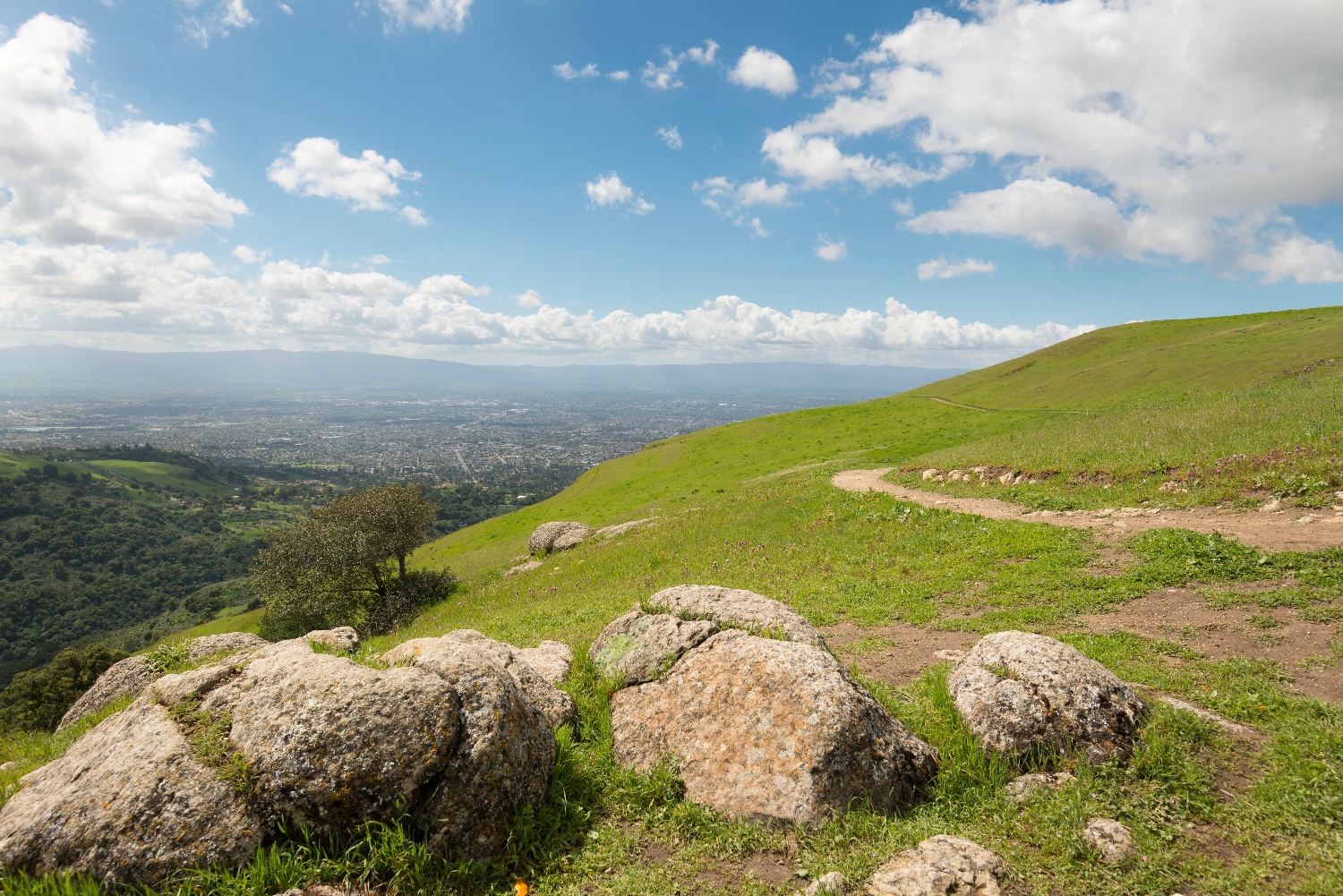 Lower Calaveras Fault Trail to Vista Point - Sierra Vista Open Space Preserve
Level: Challenging
Distance: 8.4 miles (round-trip)
This is a challenging hike that will get your blood pumping, but you'll be rewarded with stunning views and a sense of solitude. Take the Kestrel Trail to the Sierra Vista Trail north-east, then south to the Lower Calaveras Fault Trail with its great views of Alum Rock Canyon and Alum Rock Park. Past the Historic Ranch House and Penitencia Creek, there is a rapid elevation gain along the Lower Calaveras Fault Trail, through gray pine habitat and dramatic views of Alum Rock Canyon. The Vista Point offers panoramic views of southern Santa Clara County.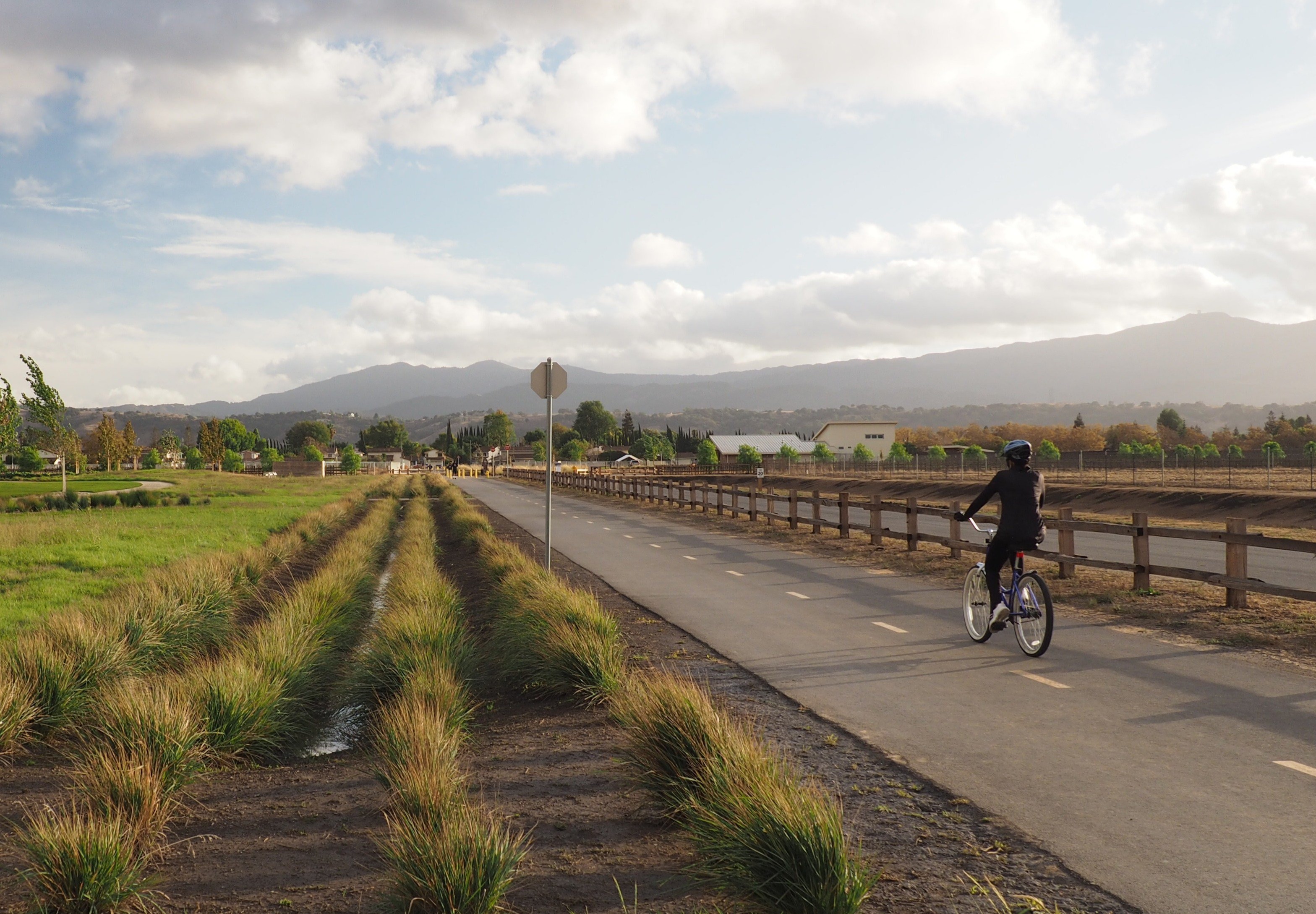 Martial Cottle Trail - Martial Cottle County Park
Level: Easy
Distance: 2.4 mile perimeter loop (plus additional trails crossing the park)
This paved trail runs along the perimeter of Martial Cottle County Park, a 287-acre park that we love because it protects and shares the Santa Clara Valley's agricultural legacy. The Cottle family farmed this land for 150 years. In 2013, the family transferred the property to the County so that they could keep the land, now completely surrounded by urban development, in agriculture. While walking, running, or biking the trail, you can see working fields (the County leases the land to local farmers), orchards of plum, apricot, and cherry trees, and the Cottle family's old farm house. After circling the park, you can extend your walk to explore the interior trails that pass group picnic areas, a playground, and a visitor's center where you can learn more about the history of the property and agriculture in the region. The Authority contributed $450,000 towards the county's development, as part of the 20% Funding Program, which helps participating public agencies create parks and open space within their own jurisdictions.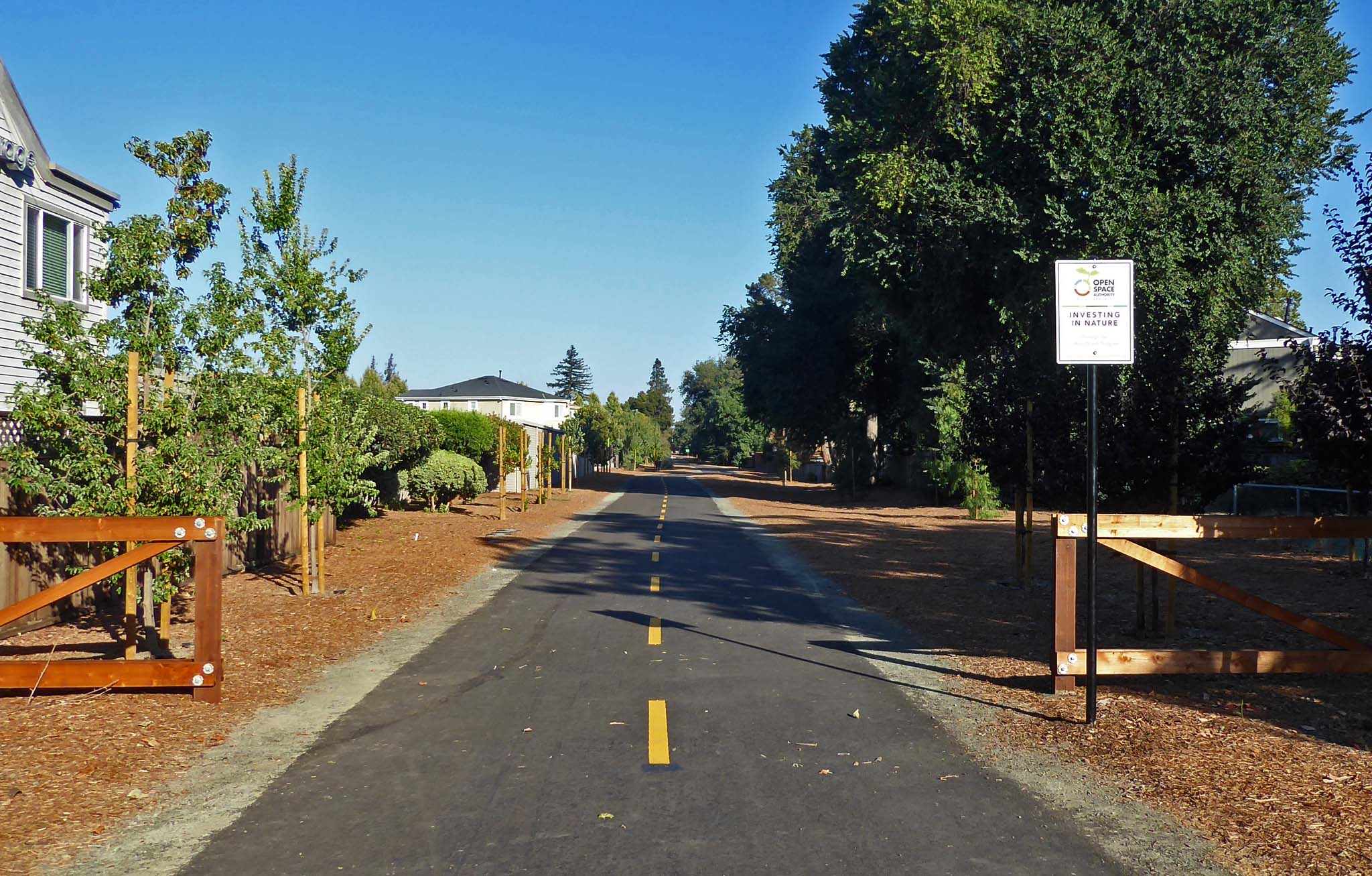 Three Creeks Trail - Willow Glen, San Jose
Level: Easy
Distance: 2 mile (round-trip)
We love this short but significant trail because it helps to connect three other trails: the Los Gatos Creek Trail, Guadalupe Creek Trail, and Coyote Creek Trail. This one-mile paved segment stretches from Coe Avenue to Falcon Court cul-de-sac and is perfect for a run, walk, or bike ride. The trail runs along former Union Pacific Railroad land and features an iconic water tank and fruit crates that pay homage to our local history as the Valley of Heart's Delight. The Authority contributed just over $3 million towards the purchase of the land where the trail is built, again as part of the 20% Funding Program.