For the second year in a row, the freshman class at The Harker School participated in the Authority's largest Land Steward service day at Coyote Valley Open Space Preserve. Over 200 students and staff spent the day helping with trail maintenance and joining in several environmental educational lessons.
In one day of service, the students accomplished enough trail maintenance to equate to hundreds of hours of work for Authority staff. After their trail work, the students sat down to enjoy an educational program. Both teachers and Authority docents provided lessons on topics such as the history of our local Native Americans, oak trees, wildlife, and even interactive sessions with drawing.
Several journalism students also attended the event and posted a story and some photos on their online student news site Aquila. The school's Harker News also published a story about the day. When asked about their day, the students were enthusiastic about their accomplishments and look forward to returning to Coyote Valley in the spring when the hills are green and covered with wildflowers. Riyaa stated, "I enjoyed the day tremendously! Knowing it improves the experience for countless hikers and horseback riders feels great!"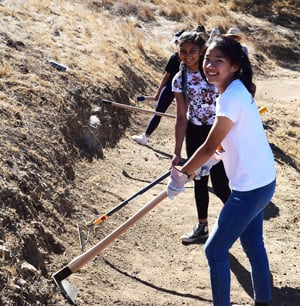 The Authority strives to educate and get youth connected to nature and this event provides a safe space for them to experience and interact with nature in a fun and meaningful way. When reflecting on the day's work, freshman student Nageena said "It is amazing to be a part of helping save the environment. Knowing that I did some good today makes me feel happier and more grateful for everything that the environment can give me." The Authority is proud to partner with The Harker School on this event and looks forward to connecting more students to nature in the future.