Everyone deserves access to healthy, nutritious food. When you shop for locally grown produce, you help support local farmers, your health, and you also reduce your carbon footprint! Keep reading to learn which fruits and vegetables are in season this winter plus a cozy recipe idea to help it all come together.
Supporting local farmers and protecting the working farmlands and ranches of the Santa Clara Valley is a must to ensure the future of our food supply.
To help us all do our part, Kat Hill, Volunteer Program Coordinator at the Open Space Authority, and Urban Open Space Grant recipient Veggielution share how to make the most of this season's produce when you shop.
Produce to look for this winter:
Citrus like kumquats, pomelo, lemons, limes, and oranges.
Kohlrabi
Greens like spinach, cabbage, broccoli, arugula, lettuce, kale, chard, collards, dandelion greens, radicchio, endive, escarole, mache, and frisee.
Napa cabbage
Beets
Sunchokes
Leeks
Snap peas
Need some inspiration to put it all together? Check out this recipe for Red Juice Pancakes below: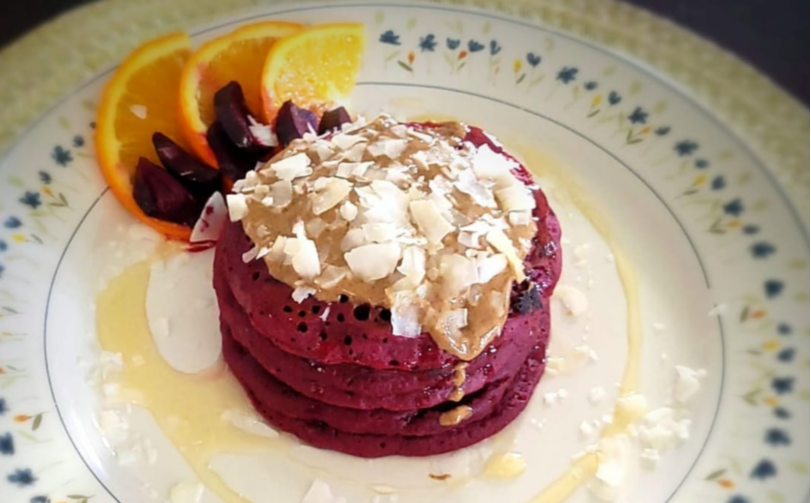 Ingredients:
12 oz of orange juice (3-5 oranges, approximately)
1 cup of diced raw beets (150g or 5 oz)
1 cup of spinach
1.5 cups of whole wheat pancake flour (or whichever you like best)
2 tablespoons of oats
1 tablespoon of chia
Butter for cooking
To add on top of pancakes:
Almond cream
Grated coconut flakes
Honey or maple syrup
Orange slices
Beet slices


Directions:
Make the juice from the beets, oranges, and spinach using a juicer or blender.

Strain the juice, especially if using a blender, so it's not too lumpy. It should come out to 14 oz of juice. Blend in the oats, chia, and flour with the juice.

Cook your pancakes as you traditionally do, in a pan with a little ghee or butter and pour a quarter cup of batter to form your pancake. Flip when it starts to bubble. Repeat until you finish the batter.
Serve with almond cream, coconut flakes, and honey or syrup. Garnish with orange and beet slices. Enjoy your pancakes!