Climate change is a big factor behind wildfire intensity, and California fires are burning hotter and spreading faster than ever before. When it comes to mitigating wildfire risks, a proactive approach is key to protecting life and property. Learn about the Open Space Authority's Fuel Management Program and work to prevent wildland fires in and around the open spaces and wildland urban interface zones of the Santa Clara Valley.
"California vegetation has adapted to fire, but not the intensity of fires that we see today," says Derek Neumann, Field Operations Manager at the Open Space Authority. "Higher intensity burns tend to change the composition of the flora that's out there, which can be harmful to the natural ecosystem." By working to minimize the intensity of wildfires, the Open Space Authority can help protect local landscapes and their many benefits, including places that provide habitat for native species to survive and thrive, and public recreation that creates opportunities for people to connect with nature.
Preparedness & PREVENTION
The Open Space Authority's Fuel Management Program provides a holistic and integrative approach to reducing wildfire risks – including the use of practices that won't disrupt natural ecosystems. "It's all about minimizing fire fuel while maximizing health of the native ecology," says David Mauk, Natural Resource Technician. "We have a variety of goals – fire fuel reduction, native species promotion, and habitat restoration. The key to an integrated approach is finding where all of these things overlap."
One approach to ecologically sensitive fire fuel reduction is cattle grazing, a conservation management tool that helps remove invasive species and removes excess vegetation that can spread fires. This allows native plants to better compete for resources, including the dwarf plantain at Máyyan 'Ooyákma – Coyote Ridge, which supports the threatened Bay checkerspot butterfly. (Click here to watch a virtual program to learn more!) This requires strategic distribution of cattle throughout a region to manage the land and reduce fire risk in a natural way.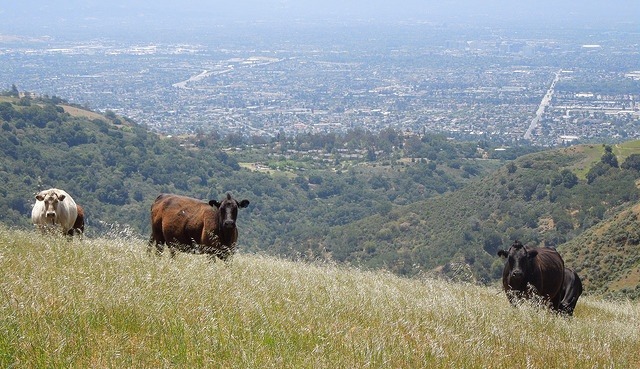 Strategic cattle grazing helps remove invasive species and reduce fire fuel
When it comes to identifying the most important areas, the Open Space Authority works with CalFire, Santa Clara County, regional planning organizations, and local communities to help establish priority actions and work towards the biggest regional benefit.
This involves creating a model that weighs potential ignition sources, fuel conditions, historic fire patterns, sensitive ecological communities, and wildland urban interface zones (places where it transitions from undeveloped open space to developed areas).

Understanding the vegetation of landscapes helps determine the likelihood of ignition, as some plants burn easier, or are more likely to create a buildup of old materials (fuel) that promotes the spread of fire. Having access to information about past fires can also help narrow down areas at higher risk.
If one place burns, there may not be much vegetation to fuel another fire the follow year. On the flip side, if an area hasn't burned in a long time, it may need additional management to reduce fuel loads. As the Open Space Authority's network of protected lands continues to grow, the agency is using advanced mapping techniques to better understand these factors.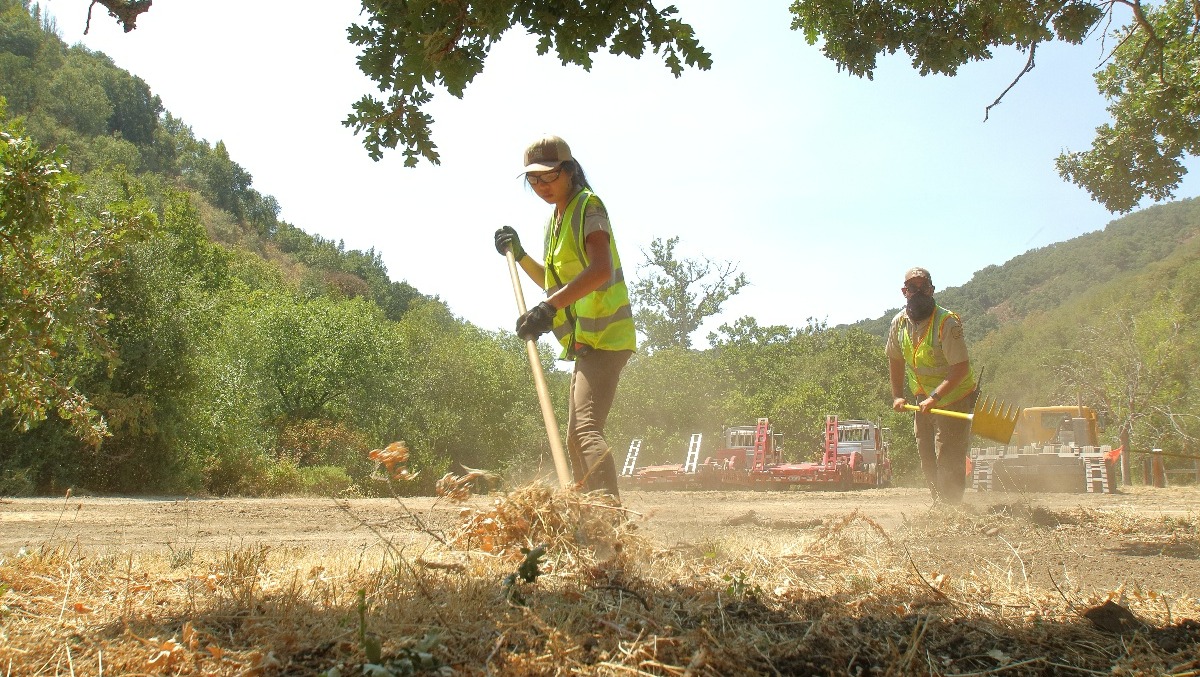 Open Space Technicians reduce vegetation from a property in preparation of fire danger
Response
Open Space Field Staff are trained and ready to help during times of crisis, working proudly alongside fire and emergency operations and response agencies countywide.

Sight knowledge is key when local fires occur, and field staff are always at the ready to provide maps of relevant areas and knowledge of local roads that may not be possible to locate on mapping systems. Additionally, they can aid fire crews in navigating access roads, assist in determining where a fire could be headed, or even jump in to help create essential fire lines.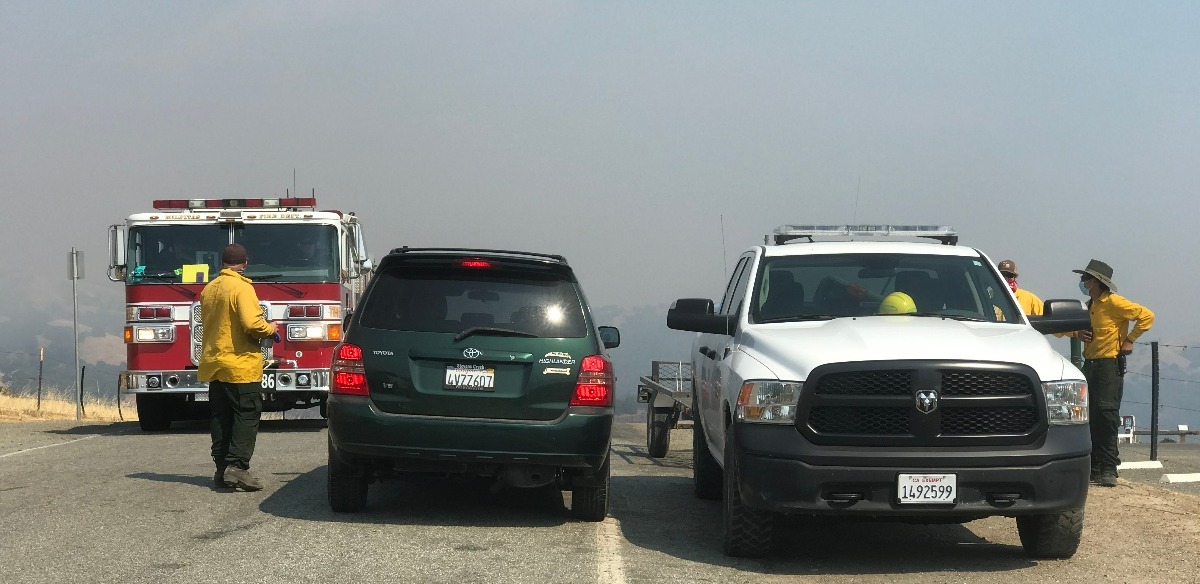 Open Space Technicians work with CalFire units during a fire at Sierra Vista Open Space Preserve in 2020
As for the public open space preserves, if a fire ignites nearby – staff are always at the ready to evacuate visitors, and provide firefighters with quick access to fire roads, while also educating crews about areas where there are sensitive natural resources to avoid.
DO YOUR PART!
Just one spark can ignite a wildfire. Everyone has a role to play, and you can protect yourself and others by recreating responsibly. When enjoying nature, don't smoke, have open fires, or barbecues during red flag (hot and dry weather) warnings. (Note these activities are prohibited at Open Space Authority preserves year-round.) For general hot weather safety tips, click here.

Further, when you're out hiking it's important to be aware of your surroundings. Do your best to know where you are and pay attention to your surroundings. If you spot a fire, alert authorities immediately.
If you happen to live in the wildland urban interface, review CalFire's defensible space guidelines.
Why it All Matters
Open spaces and natural lands are not just "nice to have." This critical natural infrastructure can be the buffer that gives a family time to evacuate, or firefighters time to stop the spread before a fire results in the loss of property or life.
"It's not a matter of if, but when," Mauk on the threat of wildfires, puts it. "With climate change at play, we can't eliminate the risk of wildfires, but we can – and must – lower it."
Proper fuel management allows firefighters a greater response time to work on a fire - protecting native plants and animals, and preventing it from escaping into residential areas where people live.
More resources: