While we're less than a quarter of the way into 2022, Santa Clara Valley temperatures are already exceeding 90 degrees and rainfall for the season is roughly 50% less than normal. The reality is that fire seasons will continue to intensify as climate change progresses, and fires are burning hotter than ever before. Keep reading to learn how the Open Space Authority is proactively preparing as these trends continue so we can continue doing our part to mitigate wildfire risks for nearby communities.
Preparedness
The Authority's Fuel Management Program provides a holistic approach to reducing fire fuel. Using an integrative strategy, the Authority works to reduce fire risk while avoiding disruption of the natural ecosystem. "It's all about minimizing fire fuel while maximizing health of the native ecology," says Galli Bason, Resource Management Program Manager and lead on the Fuel Management project. "We have a variety of goals – fire fuel reduction, native species promotion, and habitat restoration. The key to the integrated approach is finding the overlap of where we can meet them all."
One approach to ecologically sensitive fire fuel reduction is strategic cattle grazing, a conservation strategy used for years and an important part of the Authority's approach to land management. Cattle grazing helps remove invasive species, allowing natives to better compete for resources, and helps remove excess vegetation that contribute to wildfires. The cattle are strategically placed and moved around to avoid over-grazing, and to target areas where such fuel reduction will be most important.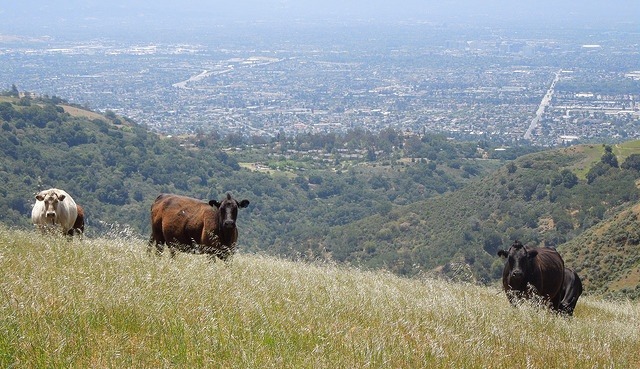 Strategic cattle grazing helps remove invasive species and reduce fire fuel
How do they determine the most important areas? They are the places of highest risk, most notably those in the Wildland Urban Interface, or WUI. The WUIs are locations where wilderness land, which is most at risk of wildfire, transitions into developed land, where a wildfire can spread. 82% of buildings destroyed by wildfires in California were in these interfaces, so understanding these areas is critical to informed and effective fire fuel management practices. This is particularly important for the Open Space Authority, with a variety of neighborhoods in its jurisdiction falling within the WUI, including the east foothills of San Jose, the Santa Teresa foothills, neighborhoods along Croy road and Summit road, and more.
There are a few different approaches to further narrow down fire risk. For one, understanding the vegetation of landscapes is helpful to determine the likelihood of something to ignite, like which plants burn easier and which have a buildup of old materials that promote the spread of fire. Having information about past fires, too, can help narrow down areas at higher risk. If one place burned the year prior, there may not be much vegetation to fuel another fire. And on the flip side, if an area hasn't burned in a long time, the area may need additional management to reduce the amount of fuel that can feed a fire. And as the Authority's network of managed lands continues to grow, the agency is using advanced mapping techniques to better understand these factors.
Using a GIS mapping firm, the Resource Management team can map past ignition sources, burn areas, and vegetation communities to extrapolate areas of highest risk using data-informed models. They can also determine areas they need to protect the most (areas where fire can cause the most damage to people and natural resources), and then identify projects in such areas that reduce fuel load.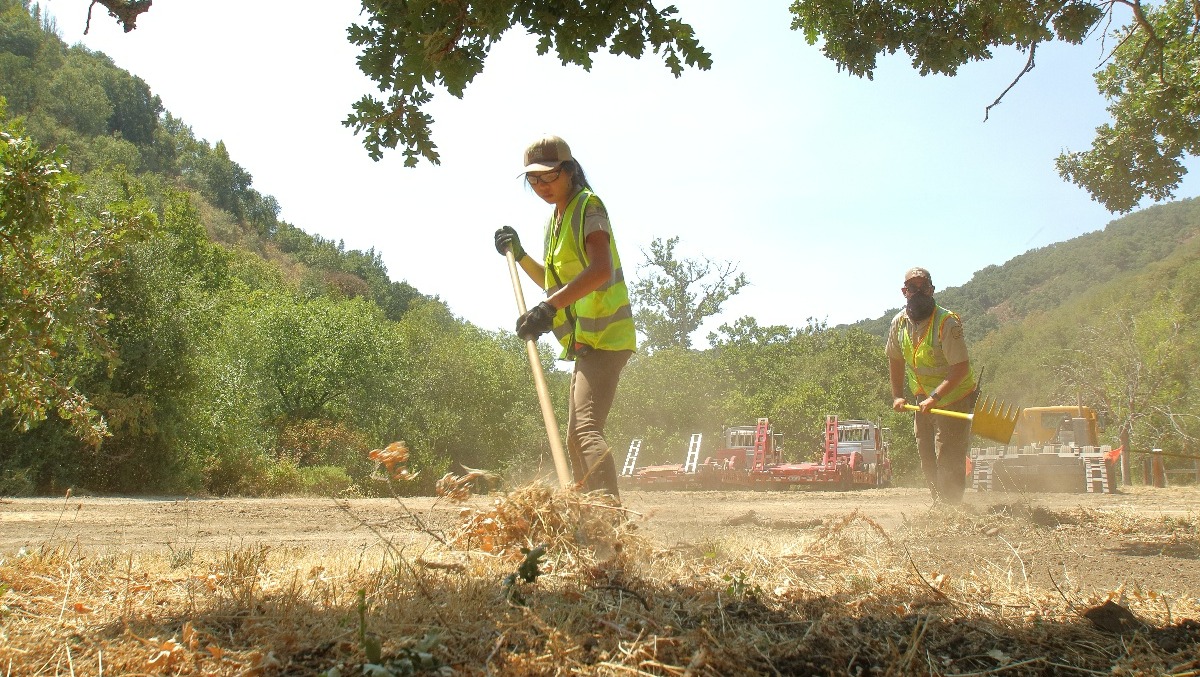 Open Space Technicians reduce vegetation from a property in preparation of fire danger
Response
While the Authority works tirelessly to minimize risks, wildfires are inevitable, as witnessed during the Crews Fire and the SCU lightning Complex Fire in 2020. And in those instances, the Authority is ready to help.
The major support field staff offer in the event of a fire is site knowledge. When local fires occur, field staff work with responding CalFire units to provide maps of relevant areas and knowledge of local roads that may not be possible to locate on mapping systems. Additionally, they can take fire captains and fire chiefs down access roads to help navigate where the fire is headed or create essential fire lines.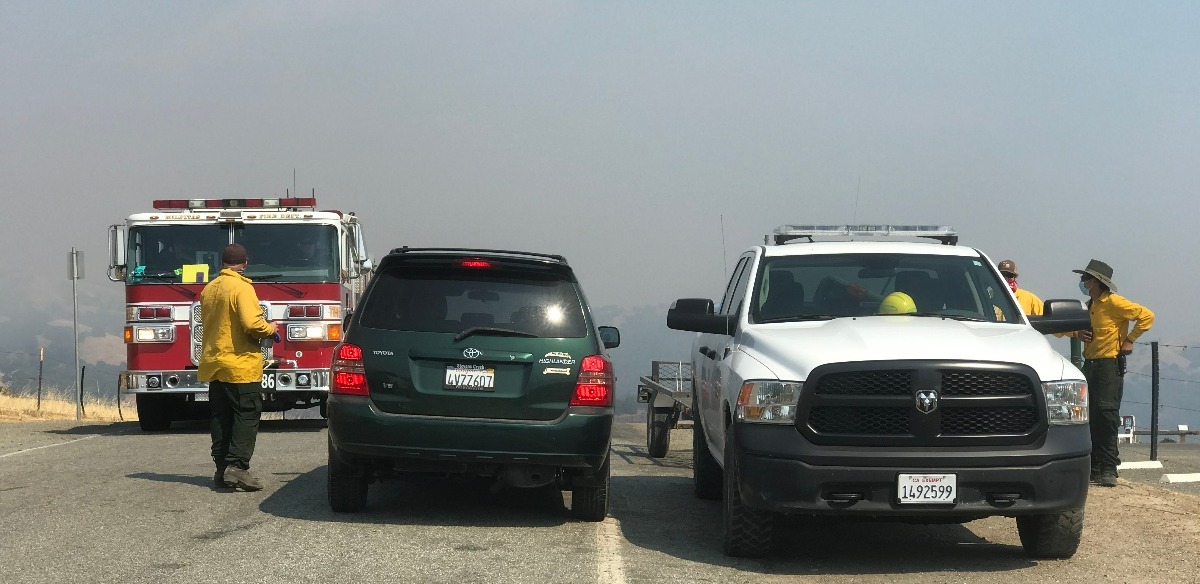 Open Space Technicians work with CalFire units during a fire at Sierra Vista Open Space Preserve in 2020
They also evacuate preserves if a fire ignites nearby and manage staging areas at preserves to provide firefighters with quick access as needed, while also letting crews know of sensitive resources to avoid when possible.
Playing Your Part
Everyone has a role to play, and you can protect yourself and your family and reduce the odds of igniting a wildfire by recreating responsibly. When out in nature, don't smoke, have open fires, or barbecues (these activities are prohibited on Authority preserves) - when it's hot and dry. Just one spark can ignite a wildfire.
Further, when you're out hiking it's important to be aware of your surroundings. Do your best to know where you are and pay attention to what's around you in case a fire starts. And if you spot a fire, alert authorities immediately. For general hot weather safety tips, click here.
Why it All Matters
First, and foremost, it's to protect the surrounding communities. Proper fuel management of opens spaces allows firefighters greater response time to work on a fire and prevent it from escaping into residential areas and endangering local neighborhoods.
Additionally, reducing wildfire risk helps protect local native plant and animal populations. "California vegetation has been adapted to fire, but not the intensity of fires that we see today," says Derek Neumann, Field Operations Manager at the Authority. "Higher intensity burns tend to change the composition of the flora that's out there and can be harmful to the natural ecosystem." So doing what we can to minimize the intensity of wildfires can protect local landscapes and their benefits, like habitat for native species and public recreation opportunities.
And natural infrastructure's role in fire safety brings more into focus the need to protect and manage these lands. They're not just nice to have – they can be the buffer that gives a family time to evacuate; firefighters time to stop the fire before it reaches their home.
"It's not a matter of if, but when," Basson, on the threat of wildfires, puts it. "With climate change at play, we can't eliminate the risk of wildfires, but we can – and must – lower it."
Check out some resources you can use to prepare for wildfires below: