Did you know that hay is a valuable food source for livestock? In the South Bay, hay is one of the most common crops grown by local farmers.
Many farmers grow multiple varieties of hay for their varying seasons and for the health benefits of the animals eating them. One farmer, Tyler Flippo, is a member of the Open Space Authority's Citizens Advisory Committee and he started hay farming nearly four years ago after inheriting his dad's 12-year-old business and purchasing all new equipment. He began as a rancher, boarding horses for equestrians, and to offset the rising costs of hay, he decided to start growing it himself.
Flippo grows oat hay and alfalfa to feed his horses, which are excellent sources of calcium, protein, and energy, and sells the extra hay he produces to the public. He notes his customers are feeding a variety of animals, including horses, goats, cattle, rabbits, and even reptiles like turtles and tortoises. And of course, who doesn't love a festive hay bale for decoration and seating at yearly harvest festivals and Halloween parties? (Though a lot of people also use straw for these purposes, a byproduct of grain crops – like wheat, because it's less likely to hold in moisture which attracts mold.)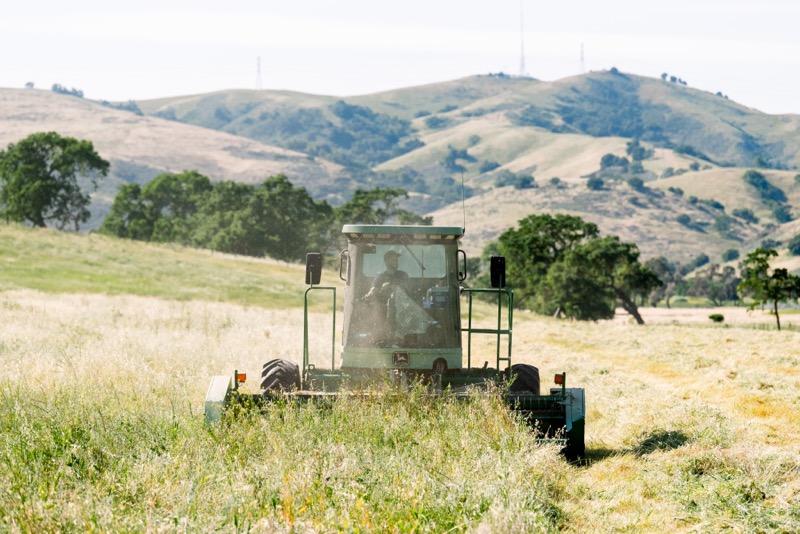 Not only does hay provide food for livestock, it also stimulates the local economy and benefits local landowners. Hay is a nearly $1 billion industry statewide, and the management of hay fields can help control the growth of weeds, the impacts of pests, and can help maintain soil health.

Dry farming is also becoming increasingly popular among hay growers as a climate resilience strategy. This practice is the product of place-based Indigenous cultures, and involves producing crops without using irrigation. Instead, a variety of techniques are used to help retain soil moisture.

But any kind of farming is a considerable financial investment – much of which is upfront. The necessary equipment must be purchased, including tractors, seeds, equipment, and of course the lease of the land, itself.

And not to mention growing hay is no easy task! Hay farming requires months of hard work, ongoing maintenance of fields, and repairs of machinery. Hay farmers must spend countless hours mowing, raking, baling, and hauling hay. And in the South Bay, a lot of this work gets done at night! The reason? Traffic!

Driving on busy roads like Santa Teresa and Monterey Highway is no fun for farmers. "We have to avoid rush hour," Flippo notes, recalling the numerous times he's gotten honked at by people who aren't familiar with everything it takes to maintain the fields, including driving oversized equipment on the roads nearby. "We are driving as fast as we safely can."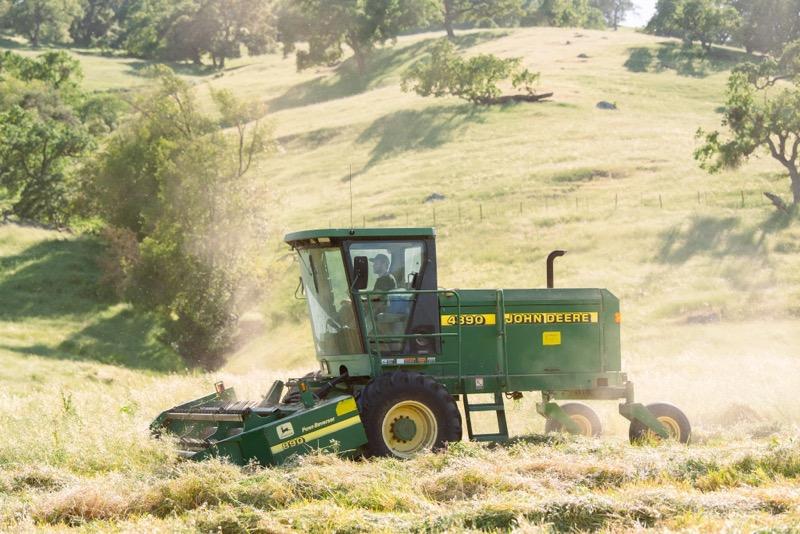 And to top it off, hay season is an emotional rollercoaster, because it's fully dependent on the weather. As drought conditions intensify, farmers are at the mercy of Mother Nature.

In fact, due to severely dry conditions, Flippo's hay fields grew to just nearly a quarter of their normal height in 2020. The region got rain in April and "that was it," he recounts. The hay started dying due to the dryness and heat, so he had no choice but to cut it early to "get as much as [he] could out of the field. That's farming."

Local farmers are faced with new challenges and decreased confidence in the size of their yield -- something that, when producing crops with several month-long growing seasons, is one of the most important factors in deciding to make such an investment.

We at the Authority are grateful for the local farmers who work tirelessly to care for these working lands, and provide food security for our local communities.
Photos: 1985 Luke Photography