The 1,859-acre Máyyan 'Ooyákma – Coyote Ridge Open Space Preserve is now open! Five miles of new trails – including a new 3-mile segment of the Bay Area Ridge Trail, and a wide range of accessible experiences – are open for free to hikers on a schedule that balances recreation and nature experiences with the sensitive habitat for the many species that make their home in the preserve's rare serpentine grasslands.
On October 14, 2023, the Authority will host a free Community Day celebration at the preserve. The event will feature special speakers and fun family-friendly activities. Details to come at openspaceauthority.org. The public may sign up to receive updates here.
About Máyyan 'Ooyákma – Coyote Ridge Open Space Preserve
Less than 15 miles south of downtown San José and nestled between the Santa Cruz and the Diablo mountain ranges, Máyyan 'Ooyákma in Northern Coyote Valley connects over one million acres of core wildlife habitat and open space.
"Máyyan 'Ooyákma - Coyote Ridge is a biodiversity hot spot in Santa Clara County, and its opening as a preserve presents an unparalleled opportunity to educate the public about the importance of protecting habitats for endangered plants and animals and helping them adapt to a changing climate," said Andrea Mackenzie, general manager of the Open Space Authority. "With our free Butterfly Pass, bilingual interpretation, special hours and docent-led programs, the Open Space Authority is embarking on a novel approach to enlightening visitors about the pressing climate crisis and the sensitive species that rely on these lands. This place will serve as an inspiring outdoor classroom, welcoming people of all ages and abilities to learn about wildlife, climate science and how to responsibly care for the land."
About the Trails
The trails at the preserve are organized as follows (see map below):
MÁYYAN WÁAYI (COYOTE VALLEY) OVERLOOK TRAIL
Distance: 1,000 feet | Average Grade: 5%




SERPENTINE SPRING TRAIL | BUTTERFLY PASS REQUIRED
Distance: 1.3 miles | Elevation change: 1,000 feet




TULE ELK TRAIL | BUTTERFLY PASS REQUIRED
Distance: 1.3 miles | Elevation change: <50 feet




BAY CHECKERSPOT TRAIL | BUTTERFLY PASS REQUIRED
Distance: 2.5 miles | Elevation change: 1,000 feet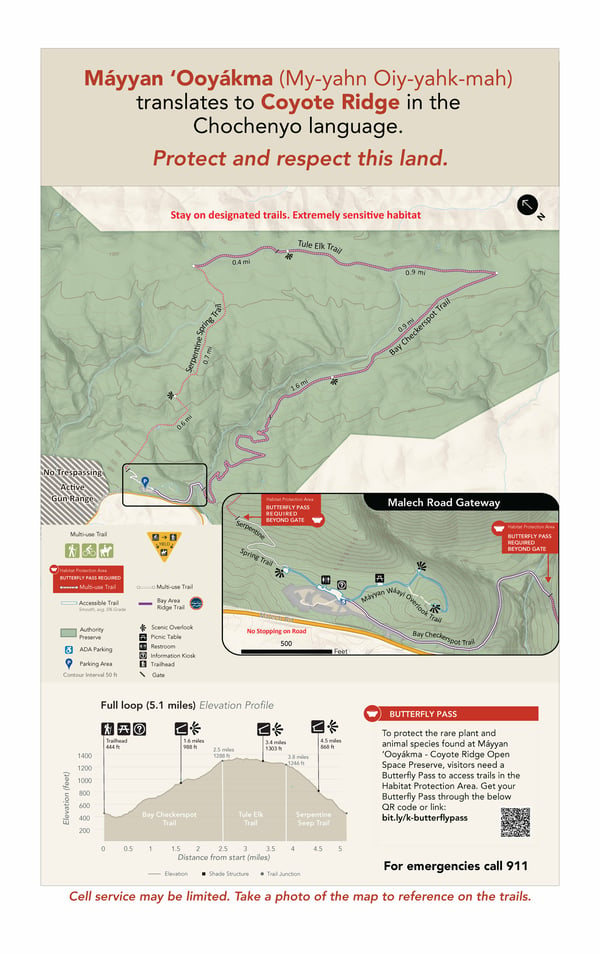 Three of the preserve's trails are located inside a "Habitat Protection Area," where 1,830 acres are enrolled in the Santa Clara Valley Habitat Plan. To help safeguard the vulnerable species and natural resources present inside the preserve, the Habitat Protection Area will be carefully observed for human impacts and managed by Open Space Authority staff and volunteers. The area's serpentine grasslands provide refuge for a wide variety of rare plants and wildlife, some of which have teetered on the edge of extinction. Among them are the Bay checkerspot butterfly, the Metcalf Canyon jewelflower, California red-legged frogs and tiger salamanders, tule elk, Western burrowing owls, golden eagles and numerous other birds of prey.
Please note: A free annual Butterfly Pass is required year-round to access the trails inside the Habitat Protection Area. Passes are available here.
To ensure that the Preserve's sensitive habitat remain protected, all trails within the Habitat Protection Area will be closed Mondays and Tuesdays, with seasonal hours that will vary based on the needs of the local wildlife.
Additionally, wildflower season traditionally attracts a lot of visitors on Bay Area trails, so starting March through May 2024, weekend access to the trails within the Habitat Protection Area will be available only via free docent-led hikes and events that require advance registration. (See infographic below for complete access schedule.)
Other important details about the visitor experience:
Parking at the preserve is limited to 42 vehicles.

There is no water available at the preserve.

There are also no garbage cans available at the preserve. Please pack out all trash.

Amenities include an ADA all-gender restroom and paved pathways inside the central gathering area, seating and shaded picnic areas, shaded overlooks and multilingual educational interpretation signage in English, Spanish, and Vietnamese.

Due to the sensitivity of the preserve's habitats, dogs and drones are not permitted anywhere on the property.

Bikes & E-Bikes are allowed, except during docent/reservation only weekends March through May.

Horses are welcome on the trails, except during docent/reservation only weekends March through May. Due to limited parking, reservations are required for equestrians transporting horses in trailers. Horse trailer parking is available Wednesday through Friday by reservation only. Please email info@openspaceauthority.org to make a reservation.
Click here for full details about preserve access hours and regulations.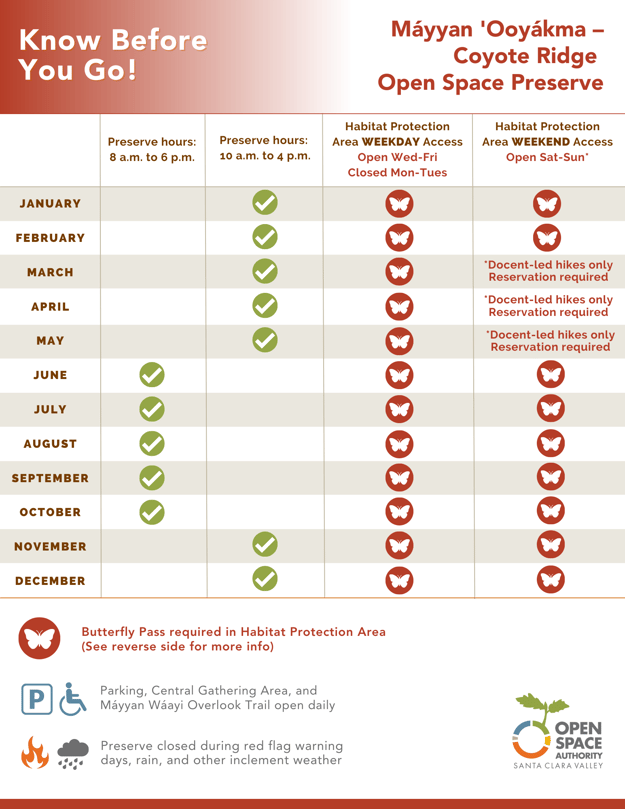 "We are excited to welcome visitors to enjoy the trails," said Derek Neumann, field operations manager for the Open Space Authority. "This preserve is unlike any other in the Bay Area. It's home to many rare, endangered and endemic plants and animals, which is why our hours of operation and access to the Habitat Protection Area are seasonal and require the free Butterfly Pass. We want visitors to witness firsthand how unique this place is. We are asking everyone to do their part to help respect and protect the sensitive plants and wildlife that call this place home."
History of Máyyan 'Ooyákma – Coyote Ridge Open Space Preserve
The preserve is located within the ethnohistoric territory of the Muwekma Ohlone Tribe of the San Francisco Bay Area, which worked with the Open Space Authority to integrate a Chochenyo translation of "Coyote Ridge" into the preserve's name. Máyyan 'Ooyákma is pronounced "My-yahn Oiy-yahk-mah." The Tribe also helped develop bilingual interpretive materials at the preserve to give further visibility to the Chochenyo language.
In 2015, the Open Space Authority permanently protected the property after successfully securing a total of $8.6 million in funding to protect the rare serpentine grasslands, the Bay checkerspot butterfly population found on the preserve and the wildlife connectivity this location provides between the Santa Cruz Mountains and Diablo Range. The acquisition was made possible through the generous support of various public and private partnerships, including the U.S. Fish and Wildlife Service, the U.S. Bureau of Reclamation, the State Coastal Conservancy, the Wildlife Conservation Board, California State Parks, the Santa Clara Valley Habitat Agency, the Gordon and Betty Moore Foundation and the Resources Legacy Fund.
Prior to its preservation, the property served as a buffer between the bustling Santa Clara Valley and a 5,127-acre facility for rocket and missile testing that United Technologies Corporation operated just a stone's throw away from San José.
Funding for this public access project totaled $4 million, provided by the Open Space Authority's Measure Q, a $400,000 grant from the Gordon & Betty Moore Foundation, $400,000 in funding from the Metropolitan Transportation Commission's Priority Conservation Area Grant Program and over $2.5 million from California State Parks.