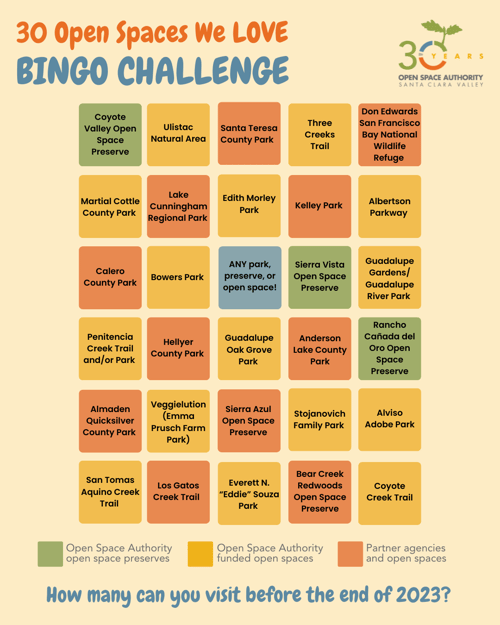 To celebrate the Open Space Authority's 30th Anniversary Year, we challenge YOU to visit 30 of our favorite open spaces in and around the Santa Clara Valley!
How many can YOU visit before the end of the year?
Download the printable PDF bingo card here.
We want you to enjoy the beauty and health benefits of nature, even if it's not at an Authority-managed preserve. These open spaces are a selection of Open Space Authority-managed preserves, locations funded by Open Space Authority grants, and open spaces managed by our partner agencies (including Santa Clara County Parks & Recreation, San José as Parks, Recreation, and Neighborhood Services., U.S. Fish & Wildlife Service, City of Santa Clara Parks & Recreation, Midpeninsula Regional Open Space District, City of Campbell Recreation and Community Services, and City of Milpitas Recreation and Community Services).
Remember: When visiting parks, preserves, trails, and open spaces, please respect the land, the wildlife, and other visitors! Check each managing agency's website for hours and notices before visiting. Follow ALL posted rules and guidelines.
Hero image photo: Ivette López