"This is why I went into city planning. This is what I hoped to do."

A link to the past, a symbol in the present, and an opportunity for the future - Coyote Valley tells a story. Nick Perry, Coyote Valley Project Manager at the Open Space Authority, is among those who know this best.
Nick was born in Mountain View to a family with a long history in the Santa Clara Valley. His dad's side of the family immigrated from the Portuguese islands in the 1910s and became orchard farmers. His mom's side, from New Mexico, came during the Great Depression as migrant farmworkers, after his great grandfather's effort to unionize his fellow Mexican miners lost him his job.

Throughout his childhood, Nick's grandparents regaled him with stories about "the old" Santa Clara Valley. The Valley of Heart's Delight was a paradise – a garden; a beautiful, rich agricultural ecosystem with limitless opportunity. But this all changed after World War II. As a teenager during the 1990s "dot com" boom, Nick saw some of the last vestiges of the valley's agricultural past disappear.

At that time, it seemed the urban sprawl that had already changed so much of the region was bound to continue. Nick recalls going for car rides with his family to find places that looked the way his grandparents remembered them before the rapid development began. Coyote Valley was one of those places, and before he knew it, Nick had his life's work set out for him.

Nick became fascinated by cities, and he knew there had to be a way to allow for development without disrupting the agricultural heritage of the Valley. "There's got to be a better way to grow," he put it. As a teenager in 1998, Nick learned of plans to develop Coyote Valley into a technology campus. Seeing an opportunity to learn from mistakes of the past, Nick sprang to action, creating a website to raise awareness about protecting the landscape. Though he was only a sophomore in high school, his website garnered a lot of attention, and eventually he was invited to speak at the Greenbelt Alliance's press conference in North Coyote Valley.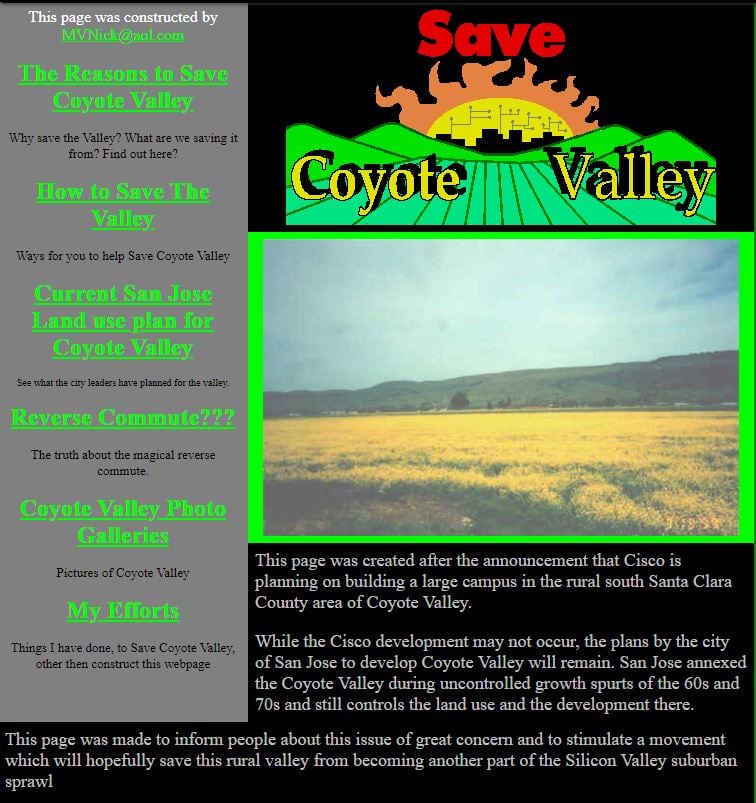 Nick's website he created in 1998 to raise awareness about protecting Coyote Valley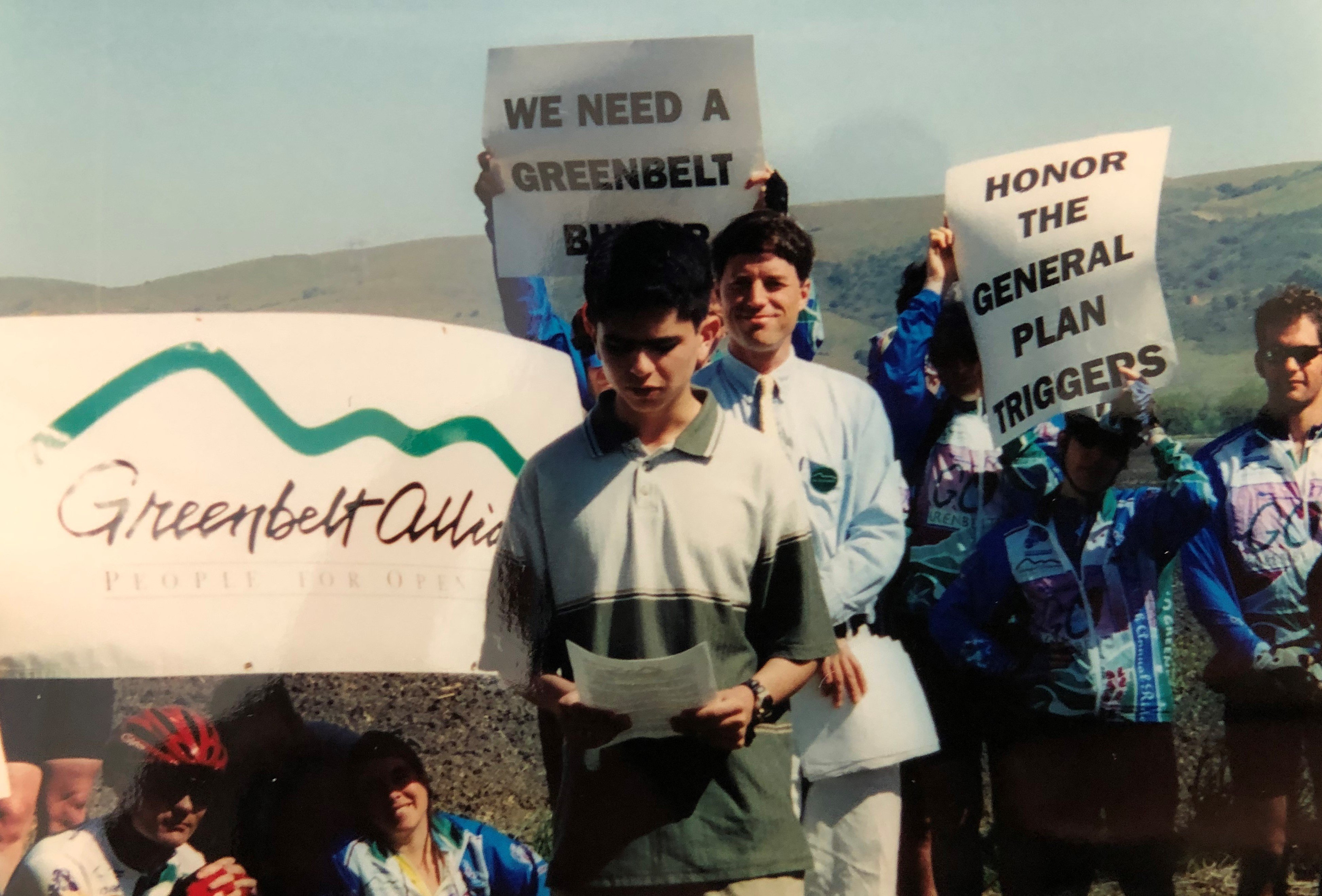 Nick speaking at Greenbelt Alliance's press conference in North Coyote Valley in 1999
From that point on, Nick knew that city planning was his calling. His goal was to go to college, study urban planning, and eventually bring his expertise back to the Valley to plan the region's growth intelligently, intentionally, and in a way that preserves open space. After college, he took a job in the City of San Francisco's planning department, where he designed and managed public space projects for over a decade. "I absolutely loved it there," Nick said fondly. "Then, in 2019, I heard that the Open Space Authority protected 937 acres of Coyote Valley. They protected the land I stood on as a teenager."

In 2020, the Authority began recruitment for a new position – a project manager for the Coyote Valley Conservation Areas Master Plan. Nick knew instinctively that this was his next step. "This is why I went into city planning. This is what I hoped to do."

Nick describes the region as a connection to both the past and the future. "As a local, the connection it could create to our natural and agricultural heritage, while also be helping us be better prepared to face climate challenges, I think is really extraordinary."

Now as he approaches his one-year anniversary with the Authority, Nick is honored to work for the landscape that holds so much meaning for his family and for the community. "I feel really lucky to be serving the people of the Santa Clara Valley, and to be in a position to help connect them to open space and the natural world," he reflected. "It's gratifying working on a project for where I'm from, and where my own family and future generations will benefit from all the work we're doing. That makes me so happy."

But the Coyote Valley Master Plan is far from complete. In fact, Nick's work to engage our diverse communities in this important work is just beginning. Join Nick LIVE in September during the Authority's three-part educational webinar series that's all about the upcoming Coyote Valley Conservation Areas Master Plan process, the landscape, and how to get involved.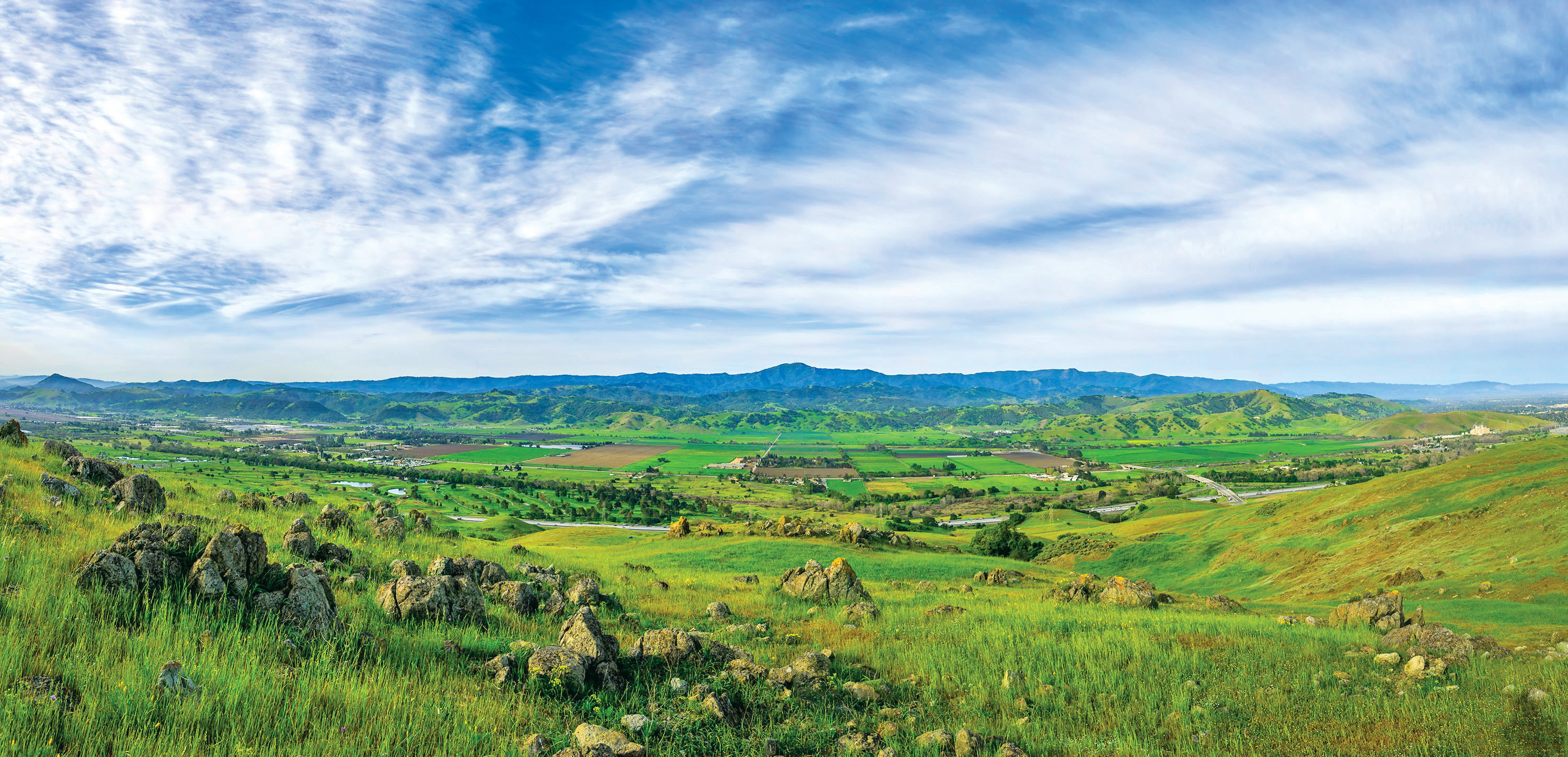 Learn more about Coyote Valley
To keep up with Nick and his team's progress, sign up for the Master Plan Interest list.