WALK, BIKE, OR HORSEBACK RIDE!
Saturdays April 27 & May 4 | Walk and Mountain Bike
Sundays April 28 & May 5 | Walk and Horseback Ride
8:00 a.m. to 6:00 p.m.
Diablo Foothills Preserve
6280 Canada Road, Gilroy CA
The parking area is located just after you pass the windmill on your left.
This spring, the Open Space Authority will be opening up the currently by-reservation-only Diablo Foothills preserve just south of Gilroy to members of the public. No reservation required for these public access weekend days, which will be separated by activity. Saturdays, April 27 and May 4, will be open for walking and mountain biking. Sundays, April 28 and May 5, will be open for walking and horseback riding. The preserve offers over 7 miles of trails to explore! Check out our recommended routes with three different levels for varying fitness levels and abilities, and learn more about what each trail or route has to offer and download the trail map below!
SELF-GUIDED ACCESS HIKES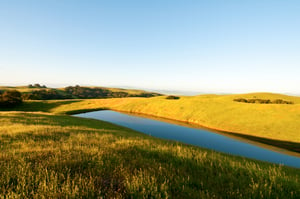 Easy
Distance: 1 mile
Travel the road along the creek, where the 2017 restoration project took place. View recently-planted native plants and newly constructed swales. Venture up to the Gray Trail junction as you walk between the divide of the Coyote Creek Watershed to the right and the Pajaro River Watershed to your left. Catch a glimpse of the middle pond, grasslands, rock outcroppings, and oak woodlands.
Moderate
Distance: 3.3 miles
Take the Orange Trail up the road to the Gray Trail, which takes you to the first Scenic Overlook with views of the lower pond, Gilroy, and the Gabilan Range. Take a short right to get to the Green Trail, which travels to the next Scenic Overlook with sweeping views of the valley's agricultural lands, rock outcroppings, and the Diablo, Santa Cruz, and Gabilan ranges. Travel back along the Blue Trail for more views of lower pond and Gilroy, adding an additional .4 miles to the hike.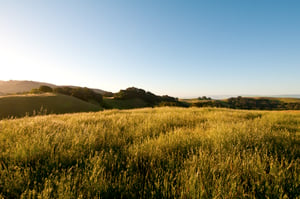 Hard
Distance: 4.4 miles
From the Orange Trail, hike up the steep portion to the final Scenic Overlook, with views of Gilroy and beautiful rock outcroppings. Take the Orange Trail back to the Yellow Trail for a shaded walk through sycamore and bay laurels, with views of lower pond. Connect with the Green Trail and stop at another Scenic Overlook for sweeping views of the valley's agricultural lands, rock outcroppings, and the Diablo, Santa Cruz, and Gabilan ranges.

Learn more about Diablo Foothills Preserve
As part of the Authority's continued effort to expand public access to its 25,000 acres of managed lands, this event will help our community learn about these protected open spaces, their wildlife and natural resources, and habitat restoration plans.
Protected in January 2007, Diablo Foothills is an 819-acre undeveloped preserve with rolling hills, oaks, ponds, and creeks that are part of the primary watershed for the Pajaro River, as well as Coyote Creek. The preserve features Coast Live Oak and annual grasslands and provides habitat for the threatened California red-legged frog and endangered California tiger salamanders.
In 2017, 13 acres of Diablo Foothills' active stream and wetlands surrounding two ponds were restored. The stream was reconstructed to its natural state with curves and swales to help slow the water flow. Restoration also included planting over 27 species of natural vegetation along the stream, such as sycamores, oak trees, locally grown willow trees, and purple needlegrass.
Explore the trails at your own pace, or check out our docent-led hikes and activities!
Diablo Foothills Nature Walk
Saturdays, April 27 & May 4 and Sundays, April 28 & May 5
10:00 a.m. to 12:00 p.m.
Join Authority volunteers and staff for a gently-paced nature walk and talk in this beautiful preserve. Explore the rolling hills, oak woodlands, creeks, and ponds, while we learn all about the plants and animals that call Diablo Foothills Preserve home. This is a short walk of under 2 miles. No registration required!
Outdoor Arts & Crafts for Kids
Saturdays, April 27 & May 4 and Sundays, April 28 & May 5
11:00 a.m. to 2:00 p.m.
Are the kids bored? Are you ready to get outdoors for some fun art activities? Come out to Diablo Foothills Preserve for the day and stop by our sign-in area to do free arts and crafts. Whether you do this before or after you hike, we will have coloring and painting supplies available from 11:00 a.m. to 2:00 p.m. Join us for some fresh air and fun! No registration required!
Bring Your Own Horse
Sunday, April 28
11:00 a.m. to 2:00 p.m.
Do you have your own horse? Would you like to come ride at Diablo Foothills Preserve down in south county? Our equestrian docent, Carolyn, would love to lead you on an interpretive ride of this fascinating new location. The ride is under 4 miles, and on this day the preserve will be open exclusively for equestrians and hikers. Registration is required and is for the trailer parking space. If you can and would like to double up with a buddy, please feel free to do so.
Save the date, and join us for this special access event!